Former Balochistan Chief Minister pays tributes to Dr Tahir-ul-Qadri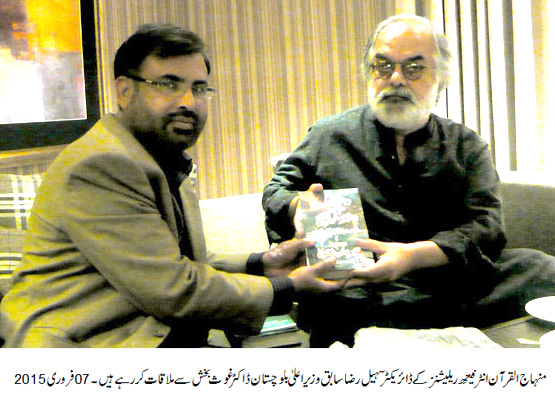 Sohail Ahmad Raza, Director of MQI Interfaith Relations, called on former Chief Minister of Balochistan Dr Ghous Bakhsh Barozai at his residence and presented him gift of Shaykh-ul-Islam Dr Muhammad Tahir-ul-Qadri's famed scholarly work 'Fatwa against terrorism and suicide bombing'.
Speaking on the occasion, Dr Ghous Bakhsh Barozai said that the research-based Fatwa authored by Dr Tahir-ul-Qadri is a dire need of the hour to crush terrorism. He said that he has stated the truth boldly and guided the Muslims at this critical juncture. He said that the personality of Dr Tahir-ul-Qadri is a source of peace, love and harmony, adding that whatever he says or writes is a serious endeavor for promotion of love and positive values in the society. He also prayed for long life of Dr Tahir-ul-Qadri.
The former Chief Minister of Balochistan said that Dr Tahir-ul-Qadri has rejected the theory of Clash of Civilizations by giving the Fatwa and furnished his intellectual guidance at a time when it is most needed to make this world a hub of peace. He said that the whole nation supports Dr Tahir-ul-Qadri for establishment of a peaceful society, a responsibility he has taken on himself. He said that Dr Qadri's services for promotion of interfaith harmony, dialogue and peace are laudable.
Briefing Dr Ghous Bakhsh about contributions of Dr Tahir-ul-Qadri in multiple fields, Sohail Ahmad Raza said that the PAT chief is deeply concerned over the present state of affairs in the country particularly in Balochsitan. He said that he wants that the Baloch people should get their due rights forthwith which have been denied to them for last six decades by the corrupt rulers. He said that the self-serving rulers have kept the Baloch and other people deprived of their rights for last many decades in violation of the constitutional provisions. He said that he supports restoration of real democracy in the country.