'Sharif model of accountability' has impoverished the country: Khurram Nawaz Gandapur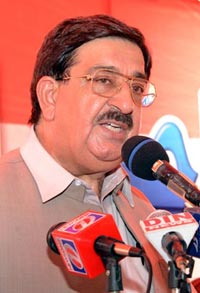 PAT Secretary General Khurram Nawaz Gandapur has said that the 'Sharif model of accountability' has impoverished the country and made people's lives miserable. He said that following an order not to reopen cases of default and corruption involving Sharif family, it has been proven beyond any shadow of doubt that the law can only capture the weak and powerless in this country.
Talking to central office-bearers of the party yesterday at the central secretariat, Khurram Nawaz Gandapur said that the lawyer of National Accountability Bureau (NAB) has exposed the reality of accountability in this country by giving his statement in support of the accused. He said that if the responsibility of NAB is to protect the corrupt mafia, then it should be disbanded as there is no justification for it to continue working on the hard earned money of the masses. He said that Dr Tahir-ul-Qadri has been proven right once again, recalling that he once said that the country's laws protected both the corrupt and corruption.
The PAT Secretary General said that if there was no blot of corruption, the rulers should have proven their innocence in the court of law by making sure that the case was heard to the last point instead of getting relief over and above the court's proceedings. He said that the nation deserves to be informed of the reasons as to why the powerful Sharif family failed to pay off the loan on time that it took 23 years ago and what was the value of assets against which the loan was obtained and does the money, which is being claimed to have been paid as mark-up, amount to real time interest? He said that the NAB has entered into a deal with the corrupt elements and there is all likelihood that the accused in NICL, EOBI, OGRA Corruption case, and Hajj scandal will also be given this facility.
Khurram Nawaz Gandapur said that how could one expect corruption and injustice to be eliminated from a society where the institutions responsible for detecting and apprehending corrupt elements give a statement of not opening cases against them, legislators that attack police stations in broad daylight, get their companions freed forcibly are given a clean chit and where those who killed 14 people and injured around 85 of them go scot free?