Terrorists' headquarters shifted to Punjab after PML-N came into power in 2008: PAT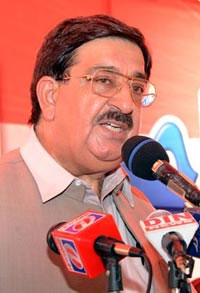 PAT Secretary General Khurram Nawaz Gandapur has said that the defunct organizations shifted their headquarters in Punjab as soon as the PML-N government came into power in Punjab in 2008 and the observation of the Senate Standing Committee in this regard is 100% true. He said that the committee should summon the Chief Minister Punjab in addition to IGP, who is a real facilitator of the terrorists for supplying wrong information regarding religious seminaries accepting foreign donations.
Khurram Nawaz Gandapur expressed these views while talking to media men in the central secretariat here today. He said that the Chief Minister Punjab is passing misleading statements in connection with implementation of National Action Plan and elimination of terrorism. He said that the fact of the matter is that the Punjab police is providing protection to terrorists at the behest of the provincial government. He said that the revelation of mastermind of Shikarpur tragedy being present in Punjab may be alarming but not unexpected because the terrorists who shed blood of innocent people in Model Town remain at large. He said that the military leadership should take notice of that.
The PAT Secretary General said that the contacts of the Shahbaz Sharif's cabinet's members and close advisers with the terrorists are no secret and two former Governors of Punjab are already on record having given this information publicly. He said that Punjab's former law minister Rana Sanaullah serves as a bridge between the government and terrorists, adding that the name of Rana Sanaullah is mentioned whether it is killing of innocent PAT workers in Model Town or that of PTI worker in Faisalabad. He said that provision of security and protection to Rana Sanaullah is compulsion of the Sharif bothers because he is the eye-witness and a mastermind of every incident. He said that PAT chief Dr Tahir-ul-Qadri's stance has been proven right wherein he had stated that the rulers are staging a façade in the name of eliminating terrorism, adding that they are facilitators of terrorists in real terms. He said that the Punjab Chief Minister took personal interest in provision of financial assistance to Malik Ishaq's family and getting him freed on bail.