PAT to hold protest demonstration against Model Town incident in Multan on 22nd
If rulers are sincere than they should make public Judicial Commission report: Dr. Hassan Mohi-ud-Din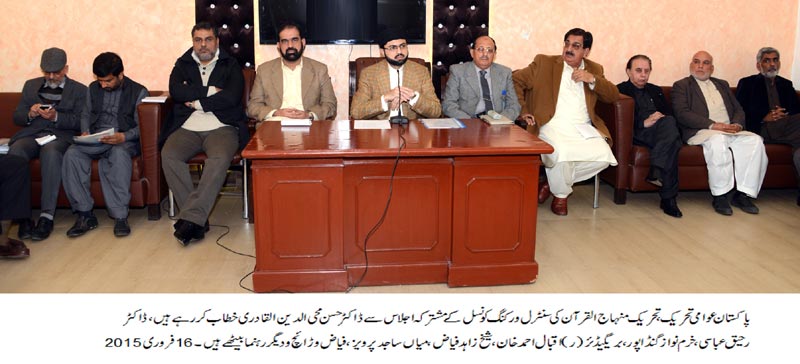 LAHORE: The joint meeting of the Central Working Committee of the Pakistan Awami Tehreek and Minhaj ul Quran was held here on Monday with Dr. Hassan Mohi-ud-Din Al-Qadri, the chairman of the Supreme Council of Minhaj ul Quran, in the chair. It was decided that the PAT will hold a demonstration in Multan on the 22nd of this month to protest the state terrorism in the Model Town incident.
The meeting was briefed on the health of the Chairman of PAT Dr. Tahir ul Qadri and the meeting prayed for the health and quick recovery of their leader.
Addressing the meeting Dr. Hassan Mohi-ud-Din Al-Qadri said that the present rulers must make it clear that they will not be allowed to complete their term unless justice is served in the Model Town killing incident and the culprits are given exemplary punishment. He said if the rulers think they are innocent then why do they not form an independent Joint Investigation Team and why do they not make the Judicial Commission's report public.
Dr. Hassan Mohi-ud-Din said that even today the rulers are making fun of the National Action Plan and are not sincere in eliminating terrorism. He said the government does not have any concrete data on the banned terrorists' organizations or on their terrorist activities. He said the rulers are confused on what to do about stopping foreign aid to madrassas of these organizations and how to get them registered.
He said under a well thought out plan those madrassas are being harassed who have been raising their voice against terrorism and extremism and this will have a direct negative impact on the NAP. He said by the Grace of Almighty Allah we have got all our workers bailed out who were illegally arrested by the government and all this has been done without entering into any sort of deal with the rulers. He said by the Grace of Allah these Nazi rulers will soon meet their logical end for framing false and fake cases against our workers.
Dr. Hassan Mohi-ud-Din said that the intra-party election of PAT and Minhaj ul Quran have entered into a final stage and the workers will use their right to vote and will elect who they think is able to lead them at all levels. He said these elections will be free, fair and transparent. The meeting prayed that mat Allah grant eternal peace to the mother of Chief of the Army Staff Gen Raheel Sharif and also prayed for those killed in Shikarpur and Hayatabad incidents.
The meeting was attended by Dr. Raheeq Abbasi, Khurram Nawaz Gandapur, Brig (retd) Iqbal Ahmed Khan, Sheikh Fayyaz, Basharat Jaspal, Fayyaz Warraich, Mian Sajid Pervaiz, GM Malik, Agha Mehmood Siraj, Amjad Ali Shah and other senior leaders.