Islamic economic system capable of steering Pakistan out of logjam: Faiz-ur-Rehman Durrani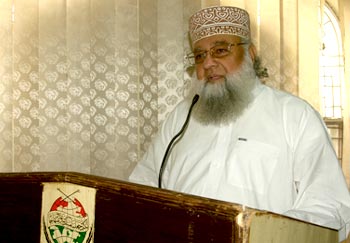 Sahibzada Faiz-ur-Rehman Durrani, central Amir of MQI, has said that violence, killings and terrorism have become too tormenting for the nation. He said that the people of Pakistan are bearing the brunt of policy lapses and failures of the rulers. He said that a conspiracy is afoot to brand Pakistan as a failed state. He said that under the Islamic economic system, neither can anyone go without food nor can the country become indebted but the protectors and promoters of the western economic model have made sure that every individual is caught in debt trap.
Faiz-ur-Rehman Durrani expressed these views while addressing the Friday congregation at the central Minhaj-ul-Quran Mosque in Model Town. He said that the country continues to be victim of hunger and darkness despite possessing excellent human and natural resources. He said that death continues to dance in the country particularly in Tharparkar where innocent children are dying on daily basis due to shortage of food and medicines. He said that all of these issues are a kind of torment, which is the outcome of our collective misdeeds.
Faiz-ur-Rehman Durrani said that when greed rules the roost, children starve off and die and the innocent people are killed, such torments are sure to come. He said that the government presided over massacre of 14 innocent people and critically injured over 85 others for life and then it deprived them of their right to seek justice. He said that those who keep silence on the oppression will become deserving of torment.
He paid rich tributes to Dr Tahir-ul-Qadri for launching Zarb-e-Aman, adding that efforts aimed at protecting the youth from the pernicious effects of terrorism and radicalism are part of greater Jihad.