Minahj Women League holds condolence reference for Late Fatima Surayya Bajia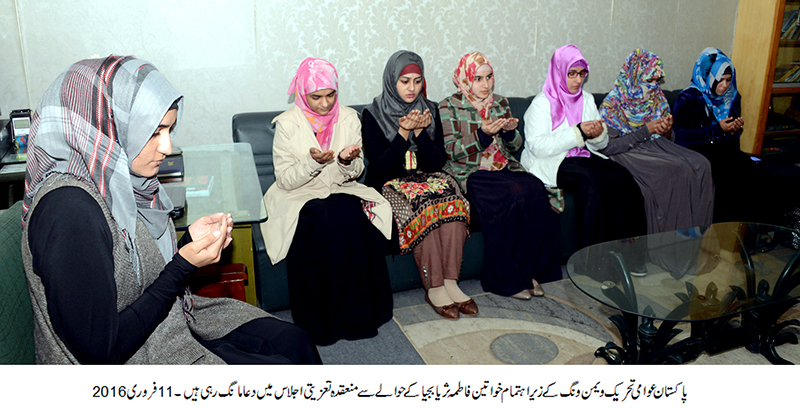 A condolence reference was held at the central secretariat under the banner of PAT Women Wing and Minhaj Women League yesterday in which rich tributes were paid to late Fatima Surayya Bajia for her meritorious services for arts and literature and Dua was made for her soul.
Addressing the condolence reference, Ms. Farah Naz said that distinguished writer Fatima Surayya Bajia was an academy in her own right and her services for promotion of knowledge and literature are unforgettable. She said that the void left by her demise will take time to fill. She said that late Fatima Surayya Bajia was a writer, a poetess, intellectual, researcher and the drama writer all rolled into one. She said that precious treasure of literature she left behind will continue to guide and enlighten the young generation for times to come.
Ms. Farah Naz said that Fatima Surayya Bajia was a knowledge loving and people friendly stateswoman and she played a commendable role for promotion of education in Pakistan in general and Sindh in particular. She said that Minhaj Women League expresses its sympathies and condolences to the bereaved family.
Ayesha Mubashar, Afnan Baber, Zainab Irshad, Aneela Ilyas, Gulshan Irshad, Attiya Baneen and others also spoke on the occasion.