Islamic economic system based on moderation: Faiz-ur-Rehman Durrani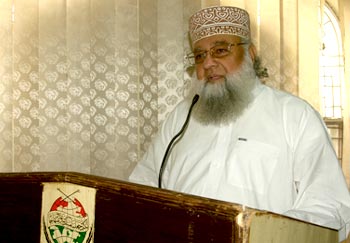 Central Amir of MQI Sahibzada Faiz-ur-Rehman Durrani has said that Islamic economic system is based on moderation. He said that the rights of the buyer and seller have clearly been pronounced in Islam. He said that Islam does not allow injustice with any party laying down an arrangement for just distribution of profit. He said that if the business community ensures quality in their products and adopts honesty in business dealings, the country can regain lost prestige at the international level.
Faiz-ur-Rehman Durrani expressed these views while addressing a big Friday congregation at the central Minhaj-ul-Quran Mosque. He said that Islam is against monopolies and encourages free market and open competition, adding that the non-Muslims are progressing because they have adopted the Islamic morality. He underlined the need of learning the ethics of Islamic commerce
The MQI Amir said that Islam enjoins upon both the employer and the employee a conduct of conduct wherein the employers have been ordered to mete out nice treatment to their employees and not to hurt their self-respect, whereas the employees have been taught to protect the interests of their employers. He said that we would have to do introspection and learn the ethics of Islamic economics to succeed.