Police stations are sold in this country: PAT Chief Organizer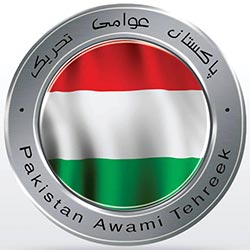 PAT Chief Organizer Major (r) Muhammad Saeed has said that it is true that police stations are sold and price tag is placed on truth. He said that the chief justice of Pakistan's apex court has exposed the claims of good governance and so-called democracy. He said that people are victim of oppression perpetrated by the police man and patwari, whereas the rulers think that solution to every public issue lies in metro bus, orange line and construction of corridor.
The Chief Organizer expressed these views while talking to the delegations of PAT Lahore chapter that called on him yesterday at the central secretariat. He said that the Chief Justice of Pakistan is right when he said that police stations are sold in billions and the governments pass on the maps to the qabza mafias themselves.
PAT Deputy Secretary General Khawaja Amir Farid Korjea said in his views on the occasion that the Qabza mafia continues to rule the roost in the country and that it is looting the country with both hands. He said that after remarks of the Chief Justice, the stay of the corrupt and incompetent government in power is dangerous for the country.
President of PAT South Punjab chapter Fayyaz Warraich said that whatever Dr Tahir-ul-Qadri said about oppression and exploitative system during the days of the sit-in is being testified by the superior judiciary today.
Basharat Jaspal, president of PAT Central Punjab, said that the rulers are using police as personal servants and the Model Town tragedy is its worst and most glaring example. He said that the police officials were used to kill innocent people in Model Town.