Why am I being denied justice? Asks Bisma Amjad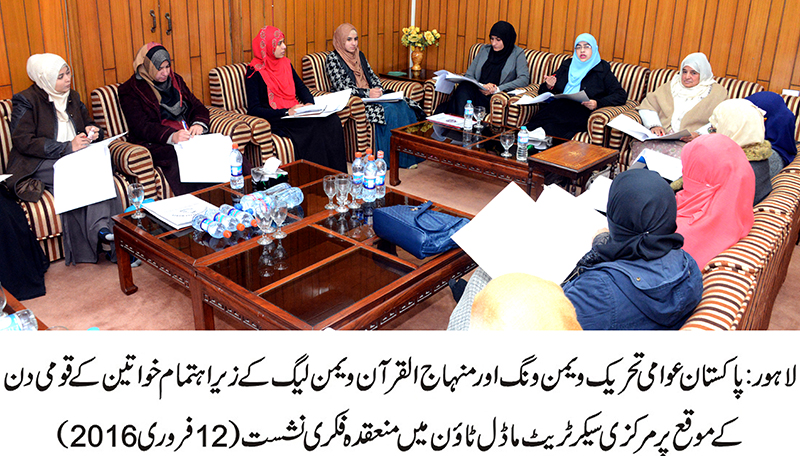 On the occasion of 32nd National Day of the Pakistani Women, Bisma Amjad, the daughter of Ms. Tanzila Amjad who was martyred on June 17, 2014 in Model Town, asked the powers that be for which crime her mother and aunt were martyred. She asked as to why they have not been provided justice despite passage of one and half years and why the killers have not been brought to justice? She asked was her mother not citizen of Pakistan and is it not her fundamental right to get justice?
Bisma Amjad asked the human rights organizations and the institutions responsible for provision of justice to play their role in making her get justice for her slain mother. She said that we would take revenge on the so-called rulers in the form of peaceful revolution. She vowed that we would continue to struggle for our rights and mission peacefully till the last breath of our lives.
Bisma Amjad expressed these views while addressing an intellectual sitting held under the banner of PAT Women Wing and Minhaj Women League to mark the National Day of the Pakistani women.
MWL President Ms. Farah Naz said in her talk that the National Day of the Pakistani women was an important day. She said that more than 50% of our population consists of women, adding that the dream of development cannot be realized without consultation and mainstreaming of the women in the national development agenda. She said that the World Economic Forum report has listed Pakistan among the countries that are not conducive for women development. She said that on the list of 142 countries surveyed vis-à-vis sexual violence and Pakistan ranked 141st, which is a slap in our collective face. She said that more than 15000 cases of rape were registered last year and only 1000 were punished.
Ms. Farah Naz said that it is a matter of immense shame for the rulers of Punjab that out of 15000 rape cases, 13000 belong to Punjab. She said that a particular mindset is responsible for keeping the women deprived of their rights. She said that real enemy of women rights is the exploitative system. She said that we pledge on this day that we would not budge even an inch from the our demand of seeking justice of Shazia Murtaza and Tanzila Amjad Shaheed.