PAT, MQI to celebrate 65th birthday of Dr Tahir-ul-Qadri on Feb 19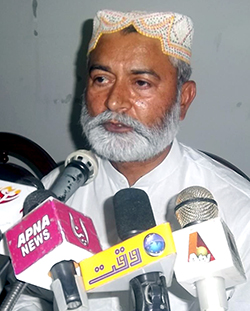 Naib Nazim-e-Ala MQI, Ahmad Nawaz Anjum, has said that PAT Chairman Dr Muhammad Tahir-ul-Qadri will turn 65 on February 19, 2016. He said that the MQI and PAT family spread over the five continents of the world would fervently celebrate the birthday of their leader on Feb 19. He said that they would offer optional prayers and make Dua for good health and long life of their beloved leader. He said that seminar and birthday ceremonies will be held in the Islamic cultural centres across the world in which the light will be thrown on different aspects of the personality and work of Dr Tahir-ul-Qadri. He said that the main ceremony at the central secretariat in this regard will be held on February 23 in which prominent people belonging to different walks of life will speak on the life and services of Dr Qadri.
Ahmad Nawaz Anjum expressed these views while addressing various administrative committees established to make arrangements for the birthday ceremonies. He said that two-week long programme has been worked out from February 14 to February 27 in which various birthday ceremonies will be held in Pakistan as well as abroad, whereas Minhaj University Lahore will host a week-long celebrations from February 29 to March 3.
Ahmad Nawaz Anjum said that Dr Qadri's struggle for revivalism of Islam as a peaceful religion and restoration of economic, political and social rights of the masses distinguishes him from others. He said that seeking guidance from the work and thoughts of Dr Tahir-ul-Qadri is dire need of the hour to move forward with the agenda of propagating Islamic message of peace and harmony. He said that PAT has continued its struggle for the rights of the downtrodden sections of society under the inspiring leadership of Dr Tahir-ul-Qadri. He said that Feb 19 is the day when the workers would renew their pledge with their leader, adding that they would achieve the destination of peaceful revolution under the leadership of their great leader.
Ahmad Nawaz Anjum said that millions of people from the Islamic world are benefiting from educational, scholarly, and spiritual services of Dr Tahir-ul-Qadri. He said that worldwide spread of MQI and its effectiveness is the proof of the fact that in a short span of 35 years, it has become one of the largest organizations in the world working for peace and inter-faith harmony. He said that the credit for phenomenal rise of the MQI goes to the leadership of Dr Qadri. He said that the PAT Chief authored 600-page Fatwa against terrorism and suicide bombing and paid the debt of centuries by designing Islamic Curriculum on peace.