PAT lawyers request court to order provision of proofs in Model Town case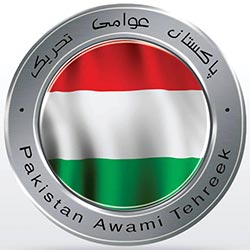 In the hearing of the Model town case held yesterday in the anti-terrorism court of Justice Khawja Zafar Iqbal, the PAT lawyers pleaded with the court that the proofs of audio, video and CD submitted by police to the JIT in the light of FIR have not been shown to the PAT lawyers despite passage of one year. They asked as to how they could cross-examine the witnesses without knowing the status and authenticity of the proofs. They said that provision of complete information to the accused in terms of allegations and proof thereof is the legal requirement, which should be fulfilled.
These views were expressed by Mirza Naveed Baig Advocate, Naeem-ud-Din Chadurhy Advocate, and Muhammad Nasir Advocate after they submitted application in the anti-terrorism court. They said that it is the unique incident of its kind that those accused of killing 14 people are not being provided with proofs.
Mirza Naveed Baig Advocate said that police is violating the rules and regulations with abandon in this highly sensitive and important case of national history. He prayed to the honourable judge to take notice of this situation. He said that Model Town case is writing a new history and both the conduct of judge and lawyers will also become part of the history as a reference point in this respect. He said that it is not the kind of case, whose one-sided verdict could be passed out, adding that it will come under discussion internationally as well.
PAT leaders namely Khurram Nawaz Gandapur, Maj (r) Muhammad Saeed and Sajid Bhatti said that it is surprising that instead of handing down ready judgment regarding provision of proofs, the honourable judge has started deliberation on the matter. They said that those who registered fake FIR, submitted fake challans and provided bogus witnesses will have to account for their actions and violation of law.