MQI Lahore launches tree plantation campaign to mark 71st Independence anniversary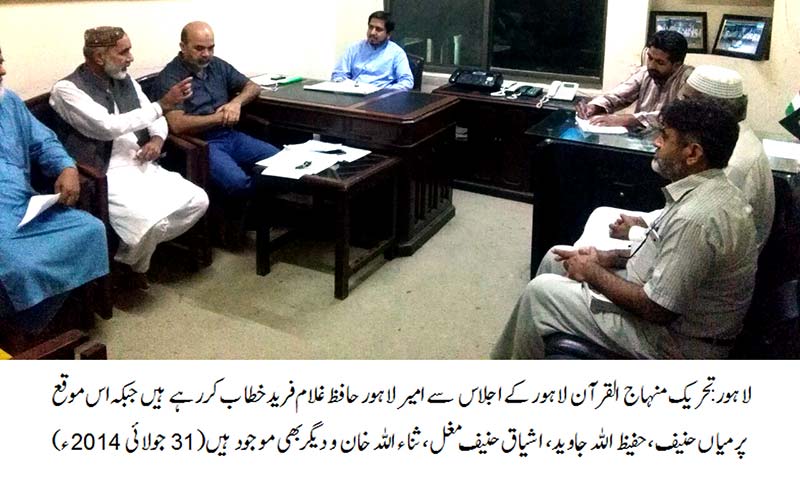 MQI Lahore has decided to celebrate the 71st independence anniversary of Pakistan under the slogan of 'Green Pakistan, Clean Pakistan'. It will run a tree plantation campaign not only in Lahore but also across the country in the month of August. Walks, seminars and conferences will be held as part of awareness drive in which the students and teachers of the colleges and the universities will also be made part of the campaign. The drive for tree plantation will begin from Lahore. Every Pakistani should plant at least one sapling during the month of independence and play his/her role in making the country green.
General Secretary MQI Lahore Hafiz Ghulam Farid expressed these views while chairing a meeting here at the central secretariat. MQI Lahore leaders Muhammad Hanif Qadri, Hafizullah Javed, Ishtiaq Hanif Mughal, Sanaullah Khan, Mumtaz Hussain, Ramzan Ayubi, Asghar Naz, Rehan Ch, Hafiz Safdar Ali, Younis Noshahi, and Allama Imdadullah Qadri attended the meeting.
Hafiz Ghulam Farid said that tree plantation campaigns are an annual feature wherein rulers, ministers and district administrations engage in the plantation and thousands of trees are planted every year. He however added in the same breath that due to lack of proper care, these saplings cannot grow and the requisite results are not attained. He said that if 20% of the saplings of those planted in a year had stayed on, we would not have been faced with such dire circumstances.
Hafiz Ghulam Farid said that it is unfortunate that despite pumping in millions of rupees, the forest cover of the country has been decreasing. He said that against the world average of 25%, our forest cover is only 4%, which is a scary situation. He said that for a country like Pakistan which is confronted with the scourge of climate change and extreme weather patterns, trees can provide us with necessary space to offset the ill effects of the climate change. He demanded strict action against the practice of tree cutting and said that those engaged in such activities should be meted out exemplary punishment.
The MQI Lahore leader said that tree plantation is the need of the hour and the MQI would play its national duty in not only making this campaign a success but also raising awareness about it. He said that we would celebrate the independence day with the slogans of planting to protect our tomorrow and that of our succeeding generations.