Azmat-e-Rasool Rally (S.A.W.) held in Hazara Division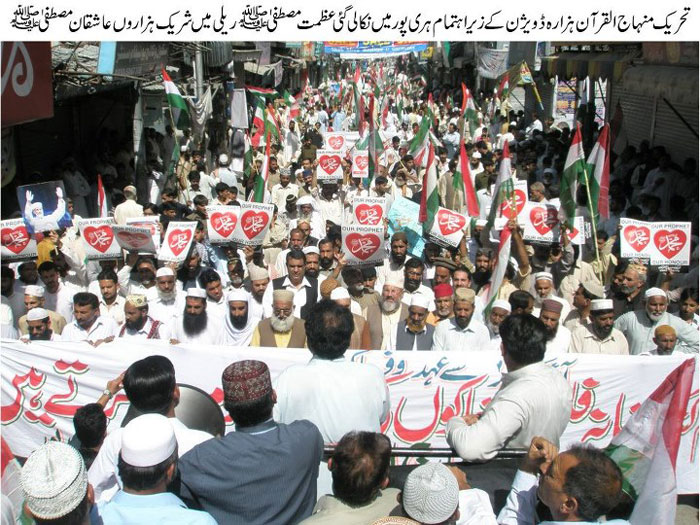 MQI (Hazara Division) took out Azmat-e-Rasool rally (S.A.W.) to protest against the profane, provocative and blasphemous movie on September 23. The rally was led by the chief of MQI KP Muhammad Mushtaq Suharwardi and was attended by hundreds of people who carried placards and banners in their hands with pro-peace and anti-movie slogans written on them. They were also carrying posters bearing name 'Muhammad' in red colours inscribed in image of heart. They continue to offer Durood-o-Salam on the way, which was manifestation of their devotion for the Holy Prophet (S.A.W.).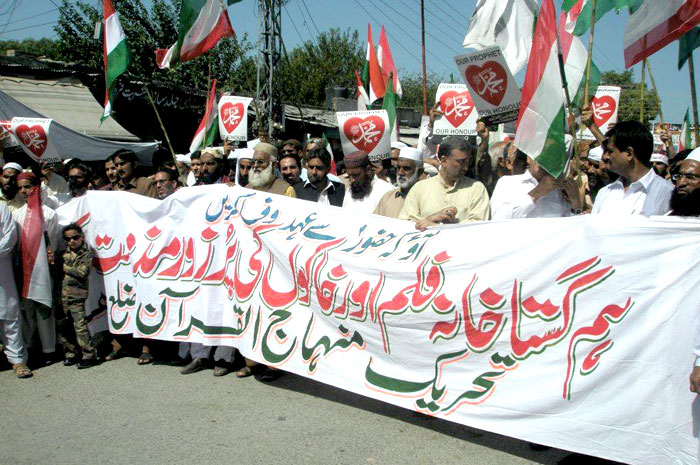 Addressing the rally, Mushtaq Suharwardi said that it was about time that the rulers of the Muslim world jumped to action and raised the issue at relevant forums. He said that the sentiments of the Muslims were deeply hurt and if the ideals of peaceful coexistence and interfaith harmony were to be promoted, then legislation aimed at ensuring respect of holy personages and religions was a must. He said that it was high time that such legislation was carried out and duly implemented in letter and spirit to preclude any possibility of recurrence of such heinous incidents.
Former MPA and District Nazim Yousaf Ayub Khan, Dr Husnain Raza of Fiqha Jaferia, trade leaders, and local chapters of MQI from Haripur, Abotabad, and Mansehara attended the protest rally. The members belonging to all forums of MQI also had their full representation.