Sit-ins expand into countrywide movement, no question of a deal: Dr Tahir-ul-Qadri addresses in Abbottabad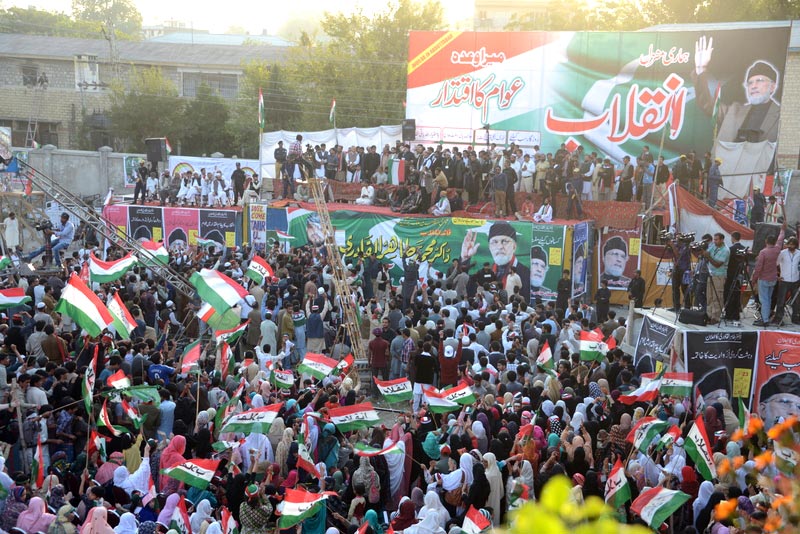 PAT chief Dr Muhammad Tahir-ul-Qadri has said that revolution sit-in has not ended in Islamabad; rather it has expanded into a countrywide movement. Rejecting all allegations of deal in the strongest possible words, he said that the wealth of whole world could not buy his shoes what to speak of buying his conscience. He said that being a commander, he had only changed the theater of war, while the fight continued with full commitment and force.
Dr Tahir-ul-Qadri expressed these views while addressing hundreds of thousands of people in a big public meeting in Abbottabad today. He asked the people of Abbottabad to help PAT get majority in Parliament, the creation of Hazara province would be gift from him for the people of the region. He said that he would not go home and rest, adding that he would visit each and every city to continue his fight against status quo and for restoration of rights of the people.
Announcing the next public meeting in Bakhar on November 23, Dr Tahir-ul-Qadri said that if public meeting in Bakhar did not reflect the passion, spirit and attendance of people as was the case at Minar-e-Pakistan, he would announce to wind up his movement. He said that public meetings would be organized in Sargodha on December 5, Sialkot on December 14 and Karachi on December 25. He also announced to stage a sit-in in Harripur on October 24.
Dr Qadri said that in terms of natural and scenic beauty and tourist attraction, Abbottabad was richer than Switzerland, adding that we would turn Abbottabad into paradise of Pakistan. He said that the city was a gateway to China given its strategic location on Karahakarm Highway and we would make it a hub of trade and tourism after coming into power.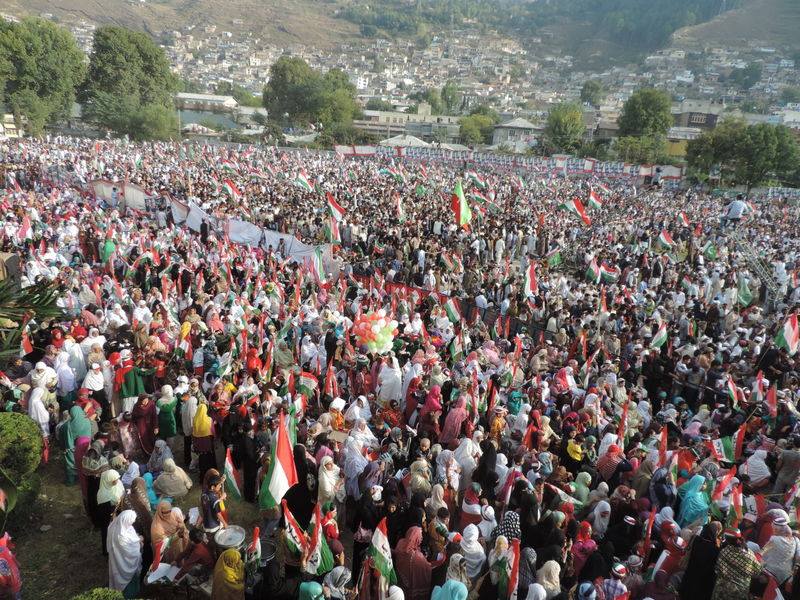 Dr Tahir-ul-Qadri asked those who accused of nexus between PAT and the establishment to seek the nation's forgiveness. He said that had our movement been backed by hidden forces, the government would not have survived beyond seven days. Using cricket as a metaphor, he said that he was all-rounder and would use every ball in his bag such as bouncer and yorker to bowl the government out. He said that he started off with batting and now he had turned to bowling. He said that neither have those who criticized us changed nor has our point of view changed either. He said that he wanted to spread revolution march throughout the country, adding that he did not have jet to fly to place of public meeting, address there and then fly back to place of sit-in on the same day. He further stated that it was not acceptable to him that participants of sit-in stayed in Islamabad without him. He said that these were the workers who had to make arrangements for public meetings in their cities.
Dr Qadri said that he was in touch with Pakistan Tehreek-i-Insaf (PTI) and these contacts would continue in future as well. He said that he had taken Imran Khan into confidence three weeks ago over consultations with his allies. He said that people of Abbottabad had answered the criticism of political opponents by attending the public meeting in their hundreds of thousands. He said that perhaps Allah Almighty did not want these oppressive rulers and system to go and they had got a temporary breather. He, however, added in the same breath that Allah Almighty has rewarded us in a big way by awakening the slumbering nation. He said that now the sun of revolution was sprinkling its rays everywhere. He likened revolution to a sun that never set.
Before formally starting his address, Dr Tahir-ul-Qadri paid glowing tributes to those who embraced martyrdom during movement for Hazara province and performed Fateha for their departed souls. He said that the purpose for which they rendered their live, PAT would achieve that objective. He demanded that FIR of those who died during the movement should be registered.
Dr Qadri said that he never talked even for once with the mother of Prime Minister Nawaz Sharif in 24 years, adding that those who got money to offer biased analysis did not carry any importance. He said that we would take part in elections, adding that elections without reforms and accountability would be meaningless exercise and we would not let Election Commission preside over them. He said that all political parties had declared elections 2013 as rigged, adding that chief election commissioners of four provinces should have resigned from their positions in the wake of massive criticism. He said that Election Commission was being run without a permanent Chief Election Commissioner. He said that we were wedded to the demand of reforms and accountability followed by elections.
Rejecting all analyses, commentary and speculations about a deal regarding end of sit-in, Dr Tahir-ul-Qadri said that no one could be more accursed than the one who made baseless allegation. He said that such kind of negative propaganda could not undermine the workers' passion for revolution. He said that revolution was like water of spring flowing beneath the mountains that would gush out wherever it found the soft soil. He said that springs of revolution would gush out everywhere. He said that the Holy Prophet (PBUH) also migrated from Madina to Makkah, adding likewise we had also changed our strategy and it was the Commander's discretion to open any theater of war and these fronts would continue to be opened till victory. He said that he was not the one who would accept defeat.
He said that Zulifkar Ali Bhutto's movement changed the thinking of people and now it was after lapse of 43 years that Allah has brought about revolution in the thinking of the masses. He said that now even the children were chanting 'Go Nawaz Go' slogans. He said that 70% of people attending our public meetings got impressed by our message of revolution raised at Islamabad sit-in.