Dr Hassan Mohi-ud-Din Qadri addresses Bahawalpur Bar Association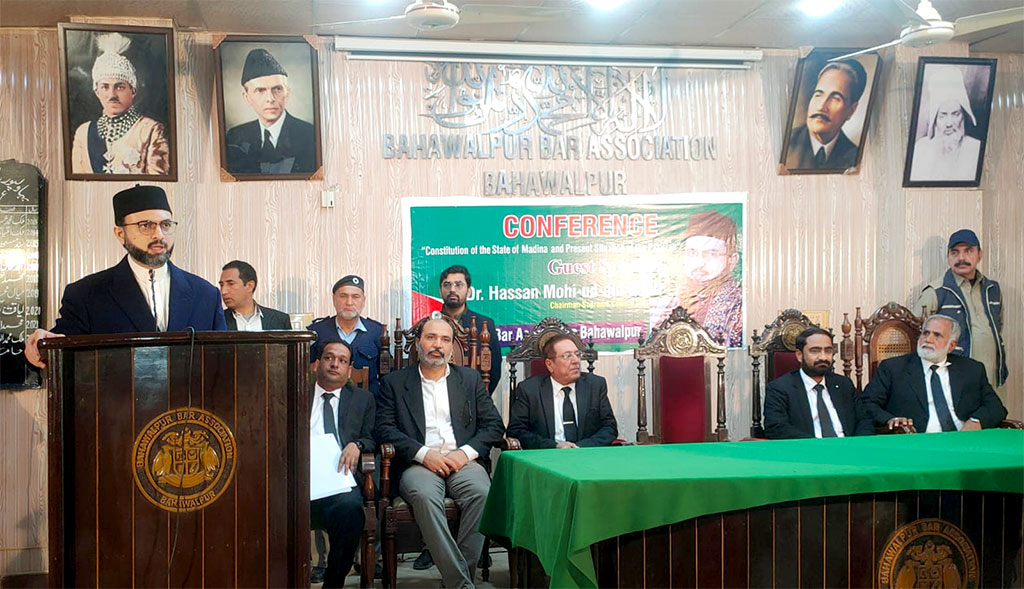 Addressing the Bahawalpur Bar Association, Chairman MQI Supreme Council Dr Hassan Mohi-ud-Din Qadri has said that the Constitution of the State of Madina is based on the guiding principles for the establishment of a welfare society. The moral and legal message of the constitutional document called the Madina Pact is that society can be rid of extremism, hatred and intolerance through the provision of justice, guarantee of the dignity of life and honour, and respect for religious sentiments of all. He said that this was also the template to merge different religions and schools of thought into the concept of One Nation.
Dr Hassan Mohi-ud-Din Qadri said that the State of Madina was set on the principles of peace, justice, and the supremacy of the rule of law. He said that the Madina Pact is the first comprehensive constitutional document in human history that advocated the concepts of interfaith harmony and dialogue, respect and the protection of human rights and international cooperation amongst the nations.
Hamid Akhtar Advocate, the president of Bahawalpur Bar Association, welcomed Dr Hassan Mohi-ud-Din Qadri and termed his address to the members of the Associations as educative and intellectually stimulating. He said that they were happy to learn that Dr Hassan is the first scholar in the Islamic world who completed his PhD on the subject of the State of Madina. He said that the solution to the multiple crises facing Pakistan lies in the constitution of the State of Madina.
The legal fraternity congratulated Dr Hassan Mohi-ud-Din Qadri on delivering a thought-provoking and scholarly address on an important topic of the State of Madina. They also lauded the Bar Association for holding the intellectual sitting for the lawyers.
Malik Aslam, Advocate of the Supreme Court of Pakistan, and Nishat Ahmad Bajwa also spoke at the event. Those present on the occasion included Sardar Shakir Mazari, Mian Noor Ahmad Sahu, Rao Arif Rizvi, Chaudhry Sohail Kamran Advocate, Gaman Khan Advocate, Malik Aslam Advocate, Muhammad Imran Yousaf Bhatti Advocate, senior lawyers and the office-holders of the various forums of MQI.