Nation has resolved to uproot terrorism: Dr Tahir-ul-Qadri's message on Defence Day of Pakistan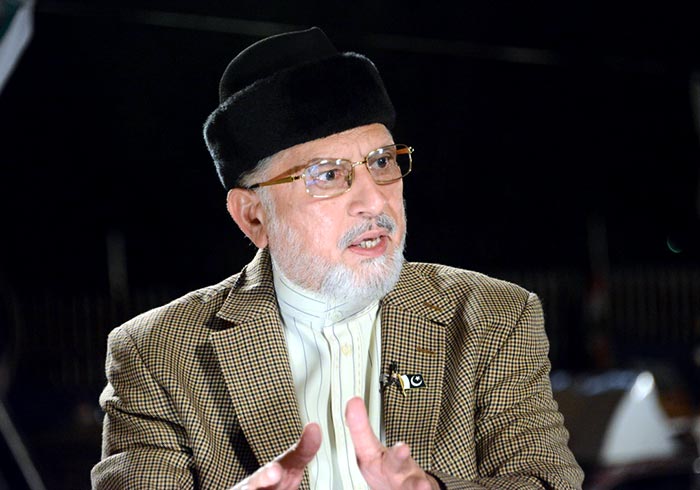 PAT Chairman Dr Muhammad Tahir-ul-Qadri has said that Pakistan is a trust of the martyrs and the Operation Zarb-e-Azb is the nation's resolve for establishment of peace. He said that it is not the weapons but the determination and courage of the nations that gets them through the wars, adding that the whole world witnessed this marvelous sense of unity during the war of 1965 when the people and the armed forces of Pakistan together defeated a far bigger enemy and thus chronicled a new chapter of sacrifice in the annals of history.
Dr Tahir-ul-Qadri said this in a special message on the occasion of the 50th anniversary of the Defence Day of Pakistan. He said that when the people of Pakistan make some resolve, then no power of the world can make them budge away from their stated goal. He said that it is for the first time after the war of 1965 that the people of Pakistan have resolved to uproot terrorism in all its forms and manifestations, adding that the world would soon see that Pakistan will create a niche for itself in the international community by eradicating this menace in the shortest possible time. He said that the motherland will soon be purged of evil existence of the enemies of Pakistan and Islam.
Dr Tahir-ul-Qadri said that the way the nation demonstrated extraordinary unity during the September 1965 in defence of the motherland against foreign aggression, there is a need of creating the same sense of unity and spirit of sacrifice in our ranks during the phase of reconstruction of the body politic. He paid his glowing tributes to the martyrs of the September 1965 war and prayed to Allah Almighty to grant them esteemed station in paradise.
Meanwhile a high-powered PAT delegation led by Secretary General Khurram Nawaz Gandapur will visit the martyrs' monument in Batapur today to lay the floral wreath there on behalf of PAT Chairman Dr Tahir-ul-Qadri.
Mazhar Alvi, the central president of Minhaj Youth League, has said that the delegations of the youth wing will visit the graves of the martyrs in the eight cities of Pakistan and lay the floral wreath there on the special instructions of PAT leader Dr Muhammad Tahir-ul-Qadri. The delegations will offer Fateha at the graves of Major Aziz Bhatti Shaheed, Capt. Col. Sher Khan Shaheed, Pilot Officer Rashid Minhas Shaheed, Lance Naik Muhammad Mahfooz Shaheed, Maj. Shabbir Sharif Shaheed, Capt. Raja Muhammad Sarwar Hussain Shaheed, Hawaldar Lalak Jan Shaheed, Sawar Muhammad Hussain Shaheed, and Major Muhammad Akram Shaheed in Gujrat, Burewala, Swabi, Karachi, Rawalpindi, Gilgit-Baltisitan, Lahore, and Gojar Khan.