Only 2 out of 20 points of NAP implemented to date: Dr Tahir-ul-Qadri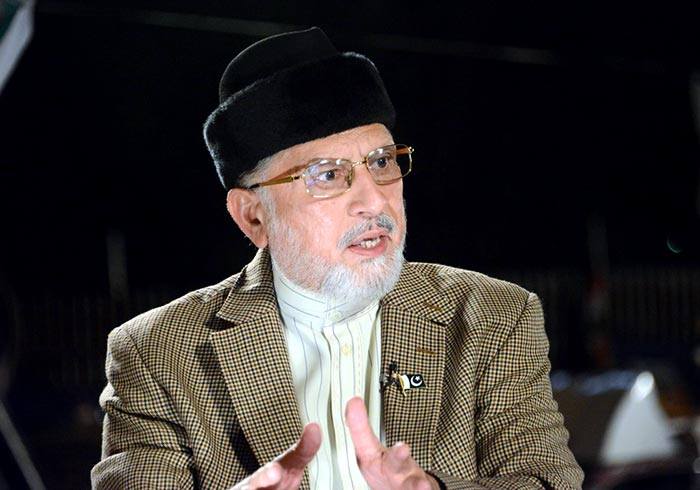 PAT Chairman Dr Muhammad Tahir-ul-Qadri has said that the federation of Pakistan, armed forces and political leaders putting their signature on National Action Plan are answerable to the nation in respect of its implementation. He said that refusal to take action against economic terrorists and their facilitators is a betrayal of sacred blood of martyred children of APS and those who have laid down their lives in the war on terrorism. He said that the rulers are tearing the national consensus against terrorism into shreds which was created as a result of National Action Plan. He said that 20-point NAP is a national document aimed at elimination of terrorism and extremism from the country, adding that it would not be allowed to be sabotaged. He said that those whose wealth, children and properties are outside of Pakistan are not seriously interested in restoring peace in the country.
Dr Tahir-ul-Qadri expressed these views while addressing the members of the PAT Central Core Committee telephonically from abroad yesterday. He said that blood of innocent children lies in the foundation of the NAP. He said that those who signed the document cannot run away from their responsibilities in terms of results. He said that only 2 out of 20 points of NAP, which are related to the military action, have been acted upon.
Mentioning failures of the government in wholly implementing NAP despite passage of one year, Dr Tahir-ul-Qadri said that neither have religious seminaries been registered nor have funding supply lines of terrorists been chocked. He said that the government failed to fulfill its responsibility vis-à-vis preparation of peace curriculum including reforms. He said that dust was thrown into eyes of the people by launching crackdown on misuse of loudspeakers instead of taking action against sectarianism and extremism. He said that action against economic terrorists and their facilitators has been left halfway through. He further said that more deterioration was witnessed in prosecution, investigation and police reforms. He said that NACTA has not become functional despite passage of one year and the Interior Ministry has failed to present a certified list of the banned organizations.
Dr Tahir-ul-Qadri further said that the FATA reforms fell prey to political vested interests and thousands of internally displaced persons continue to remain deprived basic facilities of life to date unable to resume their normal day-to-day working. He said that the project of anti-terrorism forces was also shelved after bouts of initial enthusiasm because the only legitimate use of public funds in the eyes of the rulers is construction of motorways, metro buses, and orange line metro trains. He said that no legislation has been carried out to stop radicalization on the social media despite passage of one year. He reminded that continuation of the Karachi operation till achievement of its objectives was part of NAP but the politicians have ganged together to frustrate the operation, adding that successes achieved in caves and on mountains against forces of terrorism are being neutralized on political table.
Dr Qadri said that questions are being raised as a result of keeping the operation confined to one province and one region. He said had operation against corruption been extended to the rest of the country including Punjab, no one would have dared raise any finger. He said that unemployment is the biggest source of mushroom growth of extremism. He said what to speak of creating new positions in the public sector, the government failed to fill thousands of vacancies. He said that hundreds of thousands of workers were laid off but the government was not moved. He said that the vacancies will be filled only when elections will be round the corner, adding that only then will the government jobs be distributed as political bribe. He said that incidence of terrorism has definitely decreased as a result of Operation Zarb-e-Azb but it still remains to be uprooted. He said that 650 people lost their lives in 824 incidents of terrorism during the current year. He said that latest incident of terrorism is loss of 25 lives in Parachinar. He said that money laundering and smuggling of dollars registered an increase all this while.
Dr Tahir-ul-Qadri quoted a report submitted to the Standing Committee of National Assembly wherein it was revealed that 35 billion dollars were smuggled out of the country in last 9 years, which raises a question mark on the performance of the government. He said that there are reports doing the round regarding recruitment for Daesh and election of hundreds of people belonging to the banned outfits in the recently concluded local government elections, adding that instead of taking action on the basis of such reports, the rulers remain busy in games meant for political point-scoring. He said that according to a Gallop survey last month, 69% of Pakistanis expressed their no confidence in the ability of the civil government to restore peace in the country. He said that the masses want to know how many of the culprits, abettors, supporters and financiers responsible for APS tragedy were arrested and how many of them were punished.