PAT Core Committee sets up 15 administrative committees for June 17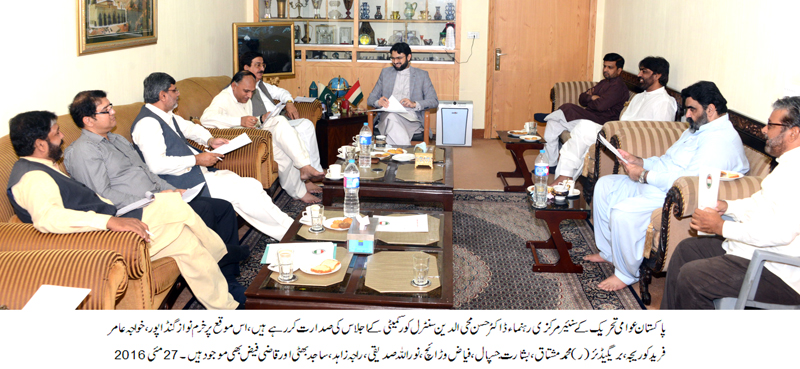 A meeting of centre Core Committee of PAT was held at the central secretariat under the chairmanship of Dr Hassan Mohi-ud-Din Qadri. Matters relating to Martyrs' Day and sit-in on The Mall came under discussion. Fifteen administrative committees were set up on the occasion. It was decided that the Core Committee will extend invitation to human rights organizations and civil society bodies including Supreme Court Bar Association and lawyers' bars. It was also decided that the workers will extend a warm welcome to their leader Dr Tahir-ul-Qadri on his return to the country.
The Core Committee was meeting was attended by Khurram Nawaz Gandapur, Khawaja Amir Fareed Koreja, Brig. (r) Muhammad Mushtaq, Bahsarat Jaspal, Fayyaz Warraich, Ahmad Nawaz Anjum, Noorullah Saddiqi, Sajid Bhatti, Qazi Faiz-ul-Islam, and Tanveer Khan.
Dr Hassan Mohi-ud-Din Qadri said that justice for martyrs of Model Town is our life-line. He said that they were not merely workers of PAT but the citizens of Pakistan as well who killed in cold blood on June 17 by a state agency, police. He said that unless the perpetrators of Model Town tragedy are brought to justice, the weak will continue to be gunned down.
The meeting also severely criticized the performance of the parliamentary committee for ToRs. It said that if the names of the PM and his children are not part of the investigation, then there is no benefit of accountability.
Speaking on the occasion, Khurram Nawaz Gandapur said that the people are concerned over the Oppositions laxity and the government's stubbornness over the Panama leaks issue. Khawaja Amir Fareed Koreja said that the letter of the Supreme Court is being mocked. The meeting also criticized increase in load-shedding and shortage of water in the Lahore city.