Knowledge of no use without character building potential: Dr Hassan Mohi-ud-Din Qadri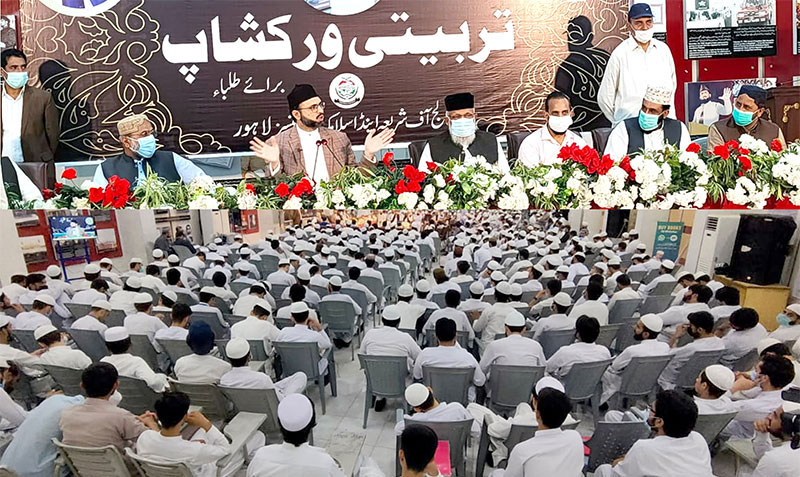 Chairman MQI Supreme Council Dr Hassan Mohi-ud-Din Qadri addressed the senior students of COSIS on the inaugural day of the two-day training workshop. In his lecture, he said that the subject of ethics and morality needs special care in order to build an educated and civilized society. He said that knowledge is of no use without action, and character. He said that it is a matter of great worry that our educational institutions no doubt impart the teaching of curriculum but pay no need to the imperative of morality and character building.
Dr Hassan Mohi-ud-Din Qadri said that Shaykh-ul-Islam Dr Muhammad Tahir-ul-Qadri has combined knowledge and character building. He said that the educational institutions operating under the supervision of MQI particularly focus on the formation of character and morality of students.
Prof Muhammad Nawaz Zafar, Muhammad Rafique Najam, and Dr Naeem Anwar Nomani also addressed the training workshop, whereas Principal Dr Mumtaz-ul-Hassan Barvi, Mufti Abdul Qayyum Hazarvi, Dr Mumtaz Ahmad Sadeedi, Dr Shafaqat Baghdadi, Prof Mohibullah Azhar, Allama Ghulam Murtaza Alvi, and Sabir Hussain Naqshbandi attended the ceremony.
Dr Hassan Mohi-ud-Din Qadri further said that negation of one's self is the highest station of respect and reverence. He said that knowledge that benefits humanity is productive knowledge. He said that weakening traditions of paying respect to our elders have rendered our society hollow. He said that MQI is working to revive the spiritual, educational and moral traditions of our forefathers.
President MQI Dr Hussain Mohi-ud-Din Qadri will address the training workshop under COSIS on the second day on October 6.