Inter-collegiate contests under COSIS conclude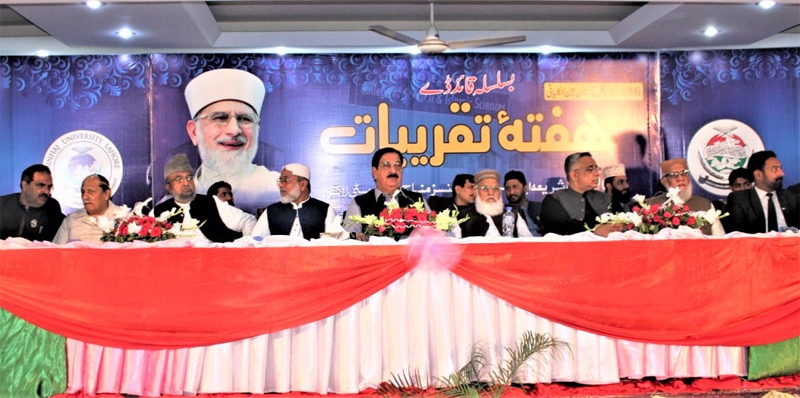 The four-day long inter-collegiate contests held under the banner of College of Shariah and Islamic Sciences (COSIS) came to an end with an Urdu debate as well as essay writing on the topic of "The reason for our decline is the system, not the people." Students from more than fifty universities and educational institutions of the country took part in the contests. Renowned lawyer Muhammad Azhar Siddique, Khurram Nawaz Gandapur, Sajjad-e-Nasheen Hazrat Mian Mir Pir Sayyid Haroon Gilani, vice-president Lahore Bar Association M.H. Shaheen, and comedian Hani Albaila also attended the ceremony.
Dr Mumtaz-ul-Barvi, Principal COSIS, presented the welcome address and told the audience that the purpose of holding these contests is to persuade the students to take part in constructive activities. Javeria Ibrahim of Minhaj College for Women, Muhammad bin Faisal of Jamia-ur-Rasheed, and Zaid-ur-Rehman, Punjab College Lahore, got first, second, and third positions respectively.
Muhammad Abubaker from COSIS, Shugafta Sherazi from Minhaj College for Women, and Javeria Qureshi from Minhaj University Lahore were ranked first, second and third in the essay writing competition.
In his speech on the occasion, Azhar Siddique Advocate said that Shaykh-ul-Islam Dr Muhammad Tahir-ul-Qadri raised awareness about Article 62 and Article 63. He said there is a massive need for purgation of the system. He said that the current system does not represent the aspirations and therefore, it needs wholesale reform.
Pir Syed Haroon Gilani said that the votes of the truthful and honest and the dishonest people are the same in importance. He said if the Articles 62 and 63 are uniformly applied to the voters as well, good candidates will start to emerge from the process.

Khurram Nawaz Gandapur said in his address that teachers have the pivotal role in the provision of training and education. He said that nations become honorable as a result of the efforts of the educators. He advised the students to respect their teachers and benefit from their knowledge and scholarship.
M.H. Shaheen Advocate said on the occasion that it is unfortunate that the thieves are not considered bad. He said that unless corruption is looked down upon and rejected, society will not get better. He said that it is only through the implementation of strict merit that the country will move forward.
Birg. (r ) Iqbal Ahmad Khan, Jawwad Hamid, Shahzad Rasool, Prof Nawaz Zafar, Abdul Qadoos Durrani, Umm-e-Habiba Ismail, Shahid Latif, Haji Ishaq, Dr Muhammad Amjad Abid, and Sabir Hussain also attended the concluded ceremony.
The position holders were given prizes, medals and shields.