Women urged to play their role for change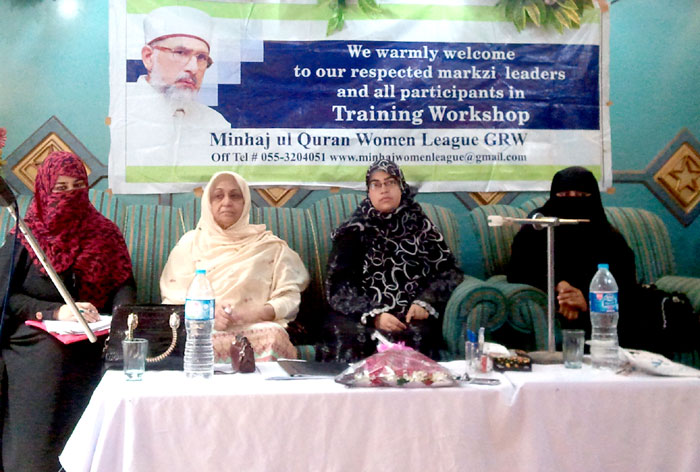 A three-member central team of Minhaj-ul-Quran Women League (MWL), comprising Secretary General Razia Naveed, Deputy Secretary General Ayesha Shabbir and Secretary 'Da'wat' Sayyida Nazia Mazhar Hashimi visited eight districts of the country from September 5 to 8.
The team spent a hectic week by covering two districts every day. Their visits featured several meetings with office-bearers of different Tehsils and Districts as well as restructuring of organizations of some Tehsils.
On September 5, the team departed from Lahore for Gujranwala and Sialkot districts and from there, they left for Gujrat and Mandi Bahauddin on September 6. On September, 7 the team reached Jhelum and Chakwal districts and on the same day they proceeded to Islamabad and Rawalpindi.
Workshops and Workers Conventions were held in all the above mentioned districts in which the team members delivered lectures.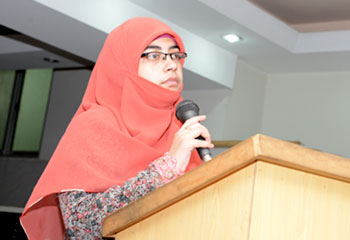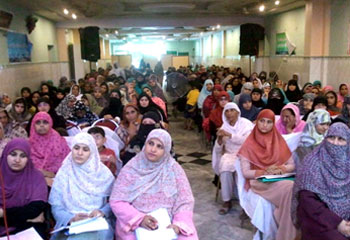 Razia Naveed, in her lectures, lauded all those who participated in the historic public meeting of December 23, 2012 as well as those who took part in Long March and May, 11, 2013 (Election Day) sit-ins across the country. She felicitated the participants of these events on getting the title of 'Mustafvi Workers' by Shaykh-ul-Islam Dr. Mohammad Tahir-ul-Qadri.
She asked the women to repose full trust in the leadership of Shaykh-ul-Islam and follow his teachings, which were based upon the golden principles of Islam. She said that Shayakh-ul-Islam was endeavouring to redeem the nation of corrupt system of government and it was the duty of every worker to convey his message to the masses. She said revolution in Pakistan was inevitable and no power could stop it. She urged the workers to utilize all their energies and strengthen the hands of Shaykh-ul-Islam for achieving the target.
Ayesha Shabbir, in her speeches, briefed the women workers about organizational structure. She urged the MWL workers to work round-the-clock to achieve 2.5 million target of women for the democratic and peaceful change. She asked them to reach every nook and crony of the country for conveying the message of change.
Sayyida Nazia Mazhar said that after having introduced true Islamic teachings in the society, MQI was entering into its final phase of unity of Muslim Umma and renaissance of Islam. She said that success in this phase would only be possible when the workers would focus their attention on Shaykh-ul-Islam's message. She asked the MWL workers to organize Islamic courses, Halqa-e-Darood-o-Fikr and CD exchange programmes to convey Shaykh-ul-Islam message to the masses.