Dr Tahir-ul-Qadri's services for peace, harmony & interfaith dialogue matchless: Dr Hassan Mohi-ud-Din Qadri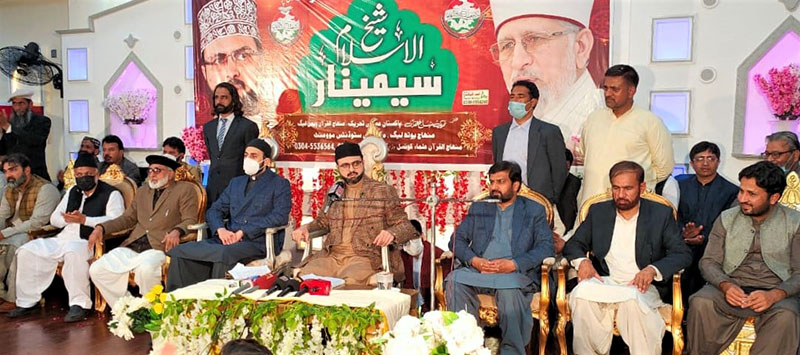 Shaykh-ul-Islam Conference was held in connection with the 70th birthday celebration of MQI founding-leader Shaykh-ul-Islam Dr Muhammad Tahir-ul-Qadri under the banner of the MQI Wazirabad chapter. Chairman MQI Supreme Council Dr Hassan Mohi-ud-Din Qadri was the chief guest on the occasion.
A large number of women and men belonging to various fields of life attended the conference. In his special address, Dr Hassan Mohi-ud-Din Qadri spoke on different aspects of the life of Shaykh-ul-Islam. He said that we are proud of the multifaceted work and services of our beloved leader. He said that there is no area of life in which his contribution has not been significant.
Dr Hassan Mohi-ud-Din Qadri particularly talked about the services of Shaykh-ul-Islam for the promotion of interfaith harmony, love, peace, and a culture of dialogue. He said the past 15 years have been quite tough for Muslims around the world, particularly after 9/11 when they were singled out on the basis of their religious beliefs and accused of supporting terrorism. He said that in such dire circumstances, it was the powerful voice of Shaykh-ul-Islam that addressed the baseless allegations against our faith and gave confidence to Muslims. He said that Dr Qadri's work in the field of religion, and mysticism will continue to quench the thirst of the seekers of knowledge.
Shaykh Hammad Mustafa al-Madani, al-Qadri, Engineer Muhammad Rafique Najam, Raja Zahid Mahmood, Chaudhry Irfan Yousaf, and other leaders were also present on the occasion. The conference concluded with Dua for good health and long life of Shaykh-ul-Islam Dr Muhammad Tahir-ul-Qadri.