Gujranwala: Dr Hassan Mohi-ud-Din Qadri address a Milad gathering

Addressing a Milad gathering in Gujranwala, Chairman MQI Supreme Council Dr Hassan Mohi-ud-Din Qadri said that the sign of a true love for the Holy Prophet (pbuh) is to act upon his teachings, obey him (pbuh) and adopt his exalted way of life. He said that MQI is working day in and day out to promote the obedience of the Holy Prophet. He said that there is a need to mould our lives in line with the beloved Prophet's (pbuh) character and blessed life. He said that if we connect ourselves to the person of the Holy Prophet (SAW) and become his loyal and obedient followers in the real sense, we can overcome all the problems and regain the lost glory, adding that this precisely is the message of Shaykh-ul-Islam Dr Muhammad Tahir-ul-Qadri.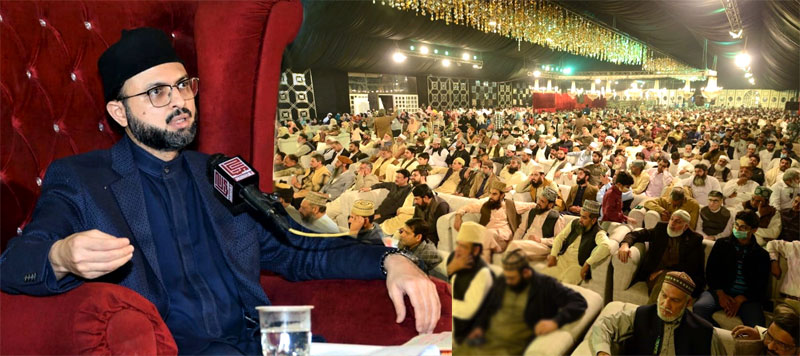 In addition to religious scholars, Mashaykh, local notables and the members of civil society, thousands of men and women attended the conference. A large number of MQI workers and office-bearers were also present on the occasion.
The prominent among the audience included Raja Zahid Mahmood, Mian Rehan Maqbool, Malik Karamat, Malik Farooq Ahmad, Dr Muneer Ahmad Hashmi, Imran Ali Advocate, Raheem Razzaq, Riasat Ali Chaddhar, Haji Sarfraz, Allama Syed Abid Ali Mash'hadi, Prof Abdul Majeed, Syed Mahmood ul Hassan Shah, Hassan Tahir, Asad Gondal, Dr Shafaqat Ali Mahr, Afzal Gujjar, Rana Waqas Qadri, Zahid Nawaz, Talha, Sidra Karamat, Umm-e-Habiba Ismail, Anila Ilyas Dogar, Hurara Babar.
Earlier, Chairman MQI Supreme Council was warmly received on his arrival in Gujranwala.