Gujranwala: Dr Hussain Mohi-ud-Din Qadri hails Supreme Court for its stance on LG polls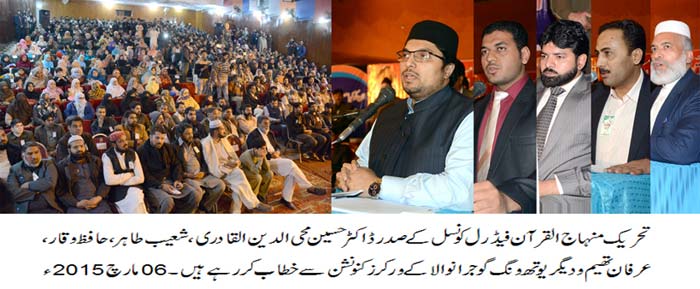 Dr Hussain Mohi-ud-Din Qadri, President of MQI Federal Council, has said that the Supreme Court of Pakistan has represented the aspirations of 180 million people on the matter of local government elections. He 'felicitated' the ruling PML-N on its record of keeping the local government institutions locked for seven continuous years in the largest province of the country. He said that the ray of hope for elections has emerged due to keen interest of the apex court.
Dr Hussain Mohi-ud-Din Qadri expressed these views while addressing Peace Youth Workers Convention held under the banner of Pakistan Awami Tehreek Youth Wing, Gujranwala. He said that Rs. 150 billion released to the local governments have not been allowed to be audited as of today. He said that the present rulers spent Rs. 700 billion of local governments on their favourite schemes through politically appointed administrators during the last seven years, which are yet to be audited.
Dr Hussain Mohi-ud-Din Qadri said that the martyrs of Model Town tragedy are the leaders of revolutionaries. He said that educated youth of PAT will play their role in the upcoming local government elections. He said that Dr Tahir-ul-Qadri has only changed strategy to reach the destination of revolution. Paying rich tributes to PAT and MQI workers, he said that they proved themselves to be model workers by offering phenomenal sacrifices. He asked them to stay engaged in search for knowledge on the path of quest and learning, reassuring them that the day is not far when they would achieve their destination.
Dr Hussain said that the struggle for revolution is aimed at empowering the downtrodden sections of society including women and non-Muslim minorities and facilitating the educated people such as doctors and engineers etc. to play their due role in the national decision-making. He said that the country suffered a massive brain drain during the past seven years when thousands of professionals left their homeland for greener pastures due to the rampant corruption and precarious security situation. He cited the province of Punjab as an example from where five to seven thousand doctors left in search of better opportunities abroad.
The President of Federal Council said that as long as the exploitative system, which is geared to protect the interests of the powerful elite, stays intact that the poverty line will continue to deepen in the country and the able Pakistanis will continue to leave their homeland for better economic prospects. He further said that the most precious asset and future of Pakistan is its people in general and educated youth in particular. He said that PAT and MQI want to see the youth playing their constructive role in policy-making positions, adding that the present leadership belonging to stone-age has already pushed the country into blind alley.
Dr Hussain Mohi-ud-Din Qadri made it clear that the blood of martyrs of Model Town tragedy will be avenged through legal means, further saying that the rulers are in error if they think that they would be able to distract PAT and its workers from the path of seeking justice through their manipulations. He said that we remain unwavering in our resolve to get justice for the Model Town victims.
Shoaib Tahir, Central President of PAT Youth Wing, Waqar Ahmad and Malik Irfan also addressed the Convention.