Only honest rulers bring prosperity for people: Dr Tahir-ul-Qadri addresses flood victims in Jhang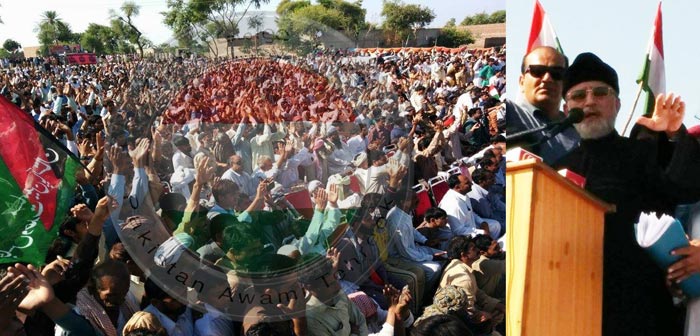 Cruel rulers first drowned the people in floodwater and then they humiliated them even more by giving them dishonoured cheques as a punishment for chanting 'Go Nawaz Go' slogans. Cases should be registered against this betrayal of the government. If rulers are honest, people become prosperous and if they are corrupt and dishonest, the masses become destitute. Capitalists, feudal lords and big business have snatched from people their right to life. I will awaken the poor and make it impossible for the exploitative classes either to live or die. Superintendents of Police will be responsible for robberies after revolution and it will be government's responsibility to compensate for the losses so incurred. PAT's 10-point agenda is a guarantee of Pakistan's progress and prosperity.
PAT chief Dr Tahir-ul-Qadri expressed these views while addressing the flood-affected people of Attha Hazari in district Jhand. It is important to mention that Dr Qadri is visiting flood hit areas to express solidarity with the people and distribute relief goods among them.
Dr Tahir-ul-Qadri said that current rulers are responsible for floods and destruction that was caused by floodwater including loss of precious lives. He said that money set aside for flood prevention was spent on unnecessary non-development purposes. He said that crops, livestock and houses of the millions of the poor were destroyed because dykes were not established on the rivers. He said that when the Prime Minister and Chief Minister visited flood affected areas to distribute cheques and photo sessions, the people chanted the slogans of 'Go Nawaz Go'. He said that as a punishment, they were given cheques which have not been encashed to date.
Dr Qadri said that a country whose exchequer did not have money for the poor has no reason to survive. He said that he is fighting for the rights of the poor and has no personal agenda because Allah Almighty has bestowed greater honour on him than came in the way of the Prime Ministers and the Presidents. He said that he paid an unannounced visit to meet with the flood affected people and express sympathy with them but they gave him immense love and respect and hatred for the rulers.
PAT leader asked the people of Attha Hazari to convey PAT's ten-point welfare agenda in every household so that PAT could clean-sweep local bodies and national elections. He asked people to give him 2/3rd majority in Parliament in next elections so that corrupt system could be sent packing in one month and ten-point agenda could be enforced. He said that every homeless will get a home, jobless a job or employment allowance, access to basic necessities of life such as education, health, adding that the farmers will get compensation in case their crops were damaged by floodwater. He said that the masses will get edibles at half of their original price and all taxes on their bills will be eliminated. He said that women will be empowered economically as well. He said that PAT's rule will form the basis of people's prosperity.