The poor to have justice at their doorstep: Dr Tahir-ul-Qadri speaks to thousands of people in Jhang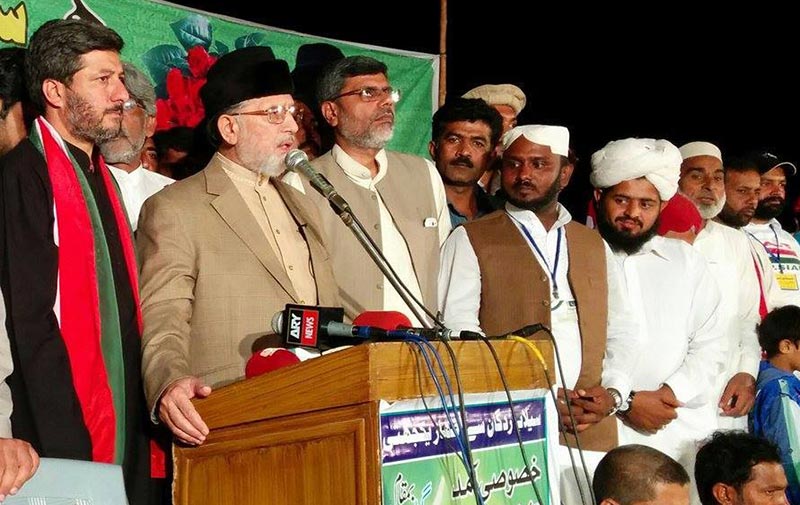 PAT chief Dr Muhammad Tahir-ul-Qadri left Faisalabad for visit of flood affected areas of Jhang on October 14 after successful public meeting at Dhobi Ghat by the name of 'Revolution in Faisalabad'. Thousands of people came out on roads to accord a warm welcome to Dr Tahir-ul-Qadri as he passed through cities, towns and villages. A sea of human heads could be seen lining up on the roads to receive Dr Qadri at Jhang-Chiniot More, Ayub Chowk, Sadar, Head Trimmu, Athara Hazari, Garh More, and Ahmadpur Sial. Thousands of people including women and children chanted 'Go Nawaz Go' slogans and demanded dismantling of corrupt and exploitative system.
Addressing a big gathering of flood victims belonging to Ahmadpur Sial and Garh More, Dr Muhammad Tahir-ul-Qadri said that no other party except Pakistan Awami Tehreek could hold such a big gathering at headquarter of district Jhang. He said that the flood affected people of Ahmadpur Sial forgot their sufferings and got together in their thousands to give him a resounding welcome. He said that a snapshot of revolution he was witnessing would sweep away the status quo and demolish the idols of oppressors. He said that the sea of people had gathered on a three-day notice without any publicity campaign being carried out for the purpose, adding that no one could stop the revolution from coming now.
Dr Qadri said that Jhang was the place where he was born. He said that looking at sea of people at Attha Hazri, he felt for a minute as if he had reached Dhobi Ghatth again. He said that Jhang would prove to be an impregnable district for PAT during elections as the corrupt and powerful people would be defeated. He said that the slogan of 'Go Nawaz Go' was the outcome of revolution march sit-in, which has changed the pattern of nation's thinking. He said that two-month old sit-in, sacrifices of the workers and their steadfastness have changed the way people thought and it was due to blood of martyrs that every city, village and town of Pakistan had risen for revolution. The world will see a sight of revolution soon, he added.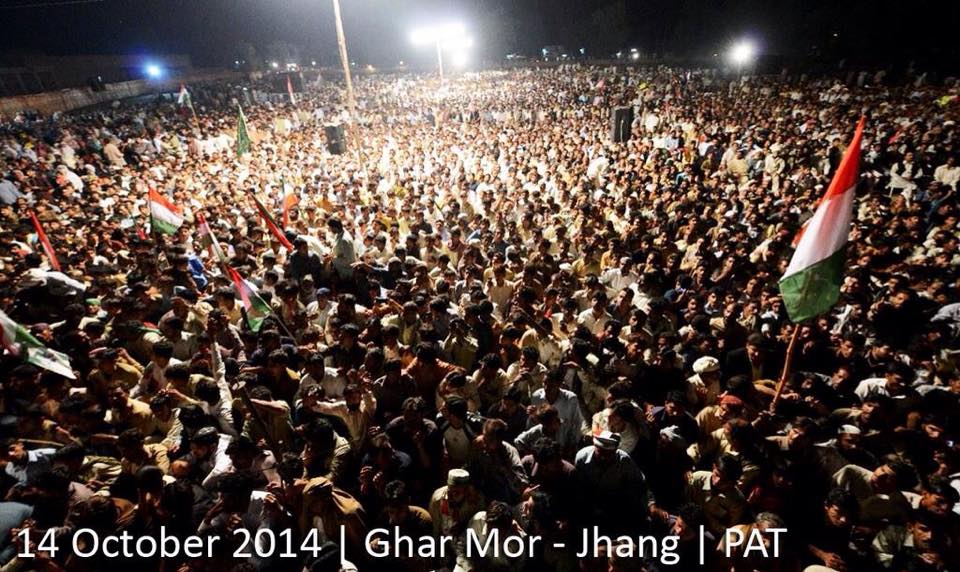 Dr Tahir-ul-Qadri underlined the need of having 2/3rd majority in Parliament in order to alter the socio-economic and political order of the country and implement the revolutionary agenda. He said that the world would see such a transformed Pakistan as a result of revolution in which the masses would have their basic rights delivered at their door-step. He said that he had no personal agenda or greed and his struggle was purely for the poor and under-privileged sections of society. He said that Allah Almighty endowed more respect on him that came in the way of the presidents and the prime ministers and his only concern was that the poor got their rights.
Dr Qadri said that PAT would take back looted money from the corrupt and change the destiny of the people after coming into power. He said that he wanted the landless peasants to have land for cultivation so that they could change their circumstances and contribute to national development. He said that people were the ultimate stakeholders and the system and the governments needed to work for their welfare. He said that he wanted every Pakistani citizen to have free and unhindered access to educational and health facilities, adding that he wanted the homeland to be rid of militancy, terrorism and sectarianism. He said that peace was his ultimate goal in the country so that all citizens could live freely and peacefully without any discrimination of caste, creed, colour and race. He said that he wanted non-Muslim citizens to enjoy equal rights without entertaining any fear of persecution.
Throwing light on his concept of devolution of power, Dr Tahir-ul-Qadri said that PAT would turn every division into a province and a Supreme Court bench would be established at every divisional level so that people have their rights at their doorstep. He said that majority of people in Pakistan were poor and he wanted their real representatives to get into assemblies. He said that according to a survey of National Food Security, the farmers suffered a loss of Rs. 240 billion in recent flooding as crops standing on 2.5 million acres of land were destroyed. He said that the corrupt rulers drowned the poor to save their mills and factories in Jhang.
Dr Qadri said that PAT, after coming into power, would redirect resources towards villages and farmers, adding that agricultural development would bring about revolution in the country. He said that all crops would be insured during his rule and the damages caused to crops would be compensated for by the government. He demanded that interest-free loans should be given to farmers for one year, adding that 15% interest on loans of Zarai Taraqiat Bank was too much for the farmers to pay.