Jhang: 44th Urs of Dr Farid-ud-Din Qadri (R.A) observed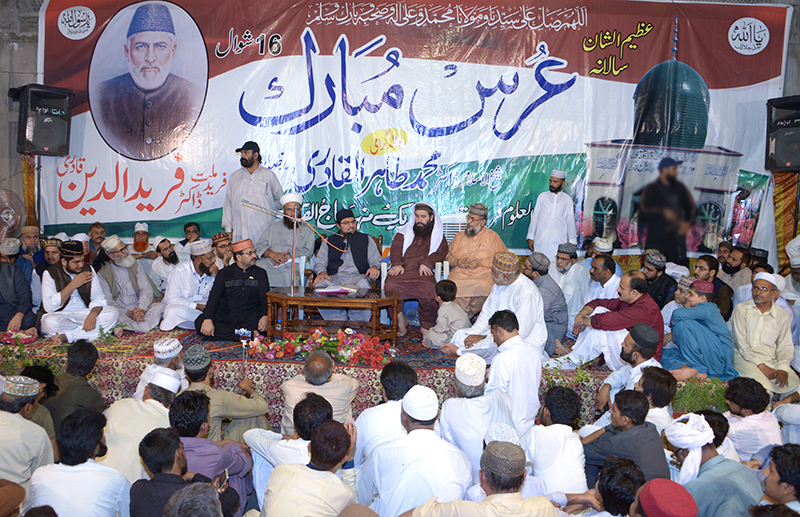 The 44th Urs of Dr Farid-ud-Din Qadri, the father of Shaykh-ul-Islam Dr Muhammad Tahir-ul-Qadri and benefactor of MQI, was observed in Lohlay Shah neighbourhood in Jhang City on July 11, 2017. The rituals of the Urs got underway at the hands of Sahibzada Sibghatullah Qadri (in-charge of the shrine). Dr Hussain Mohi-ud-Din Qadri, President of MQI, attended the ceremony as special guest and delivered his address.
A delegation of the central leaders led by Director Administration Jawad Hamid also participated in the Urs. Hafiz Ghulam Farid, Syed Hidayat Rasool Qadri and others were part of the delegation. A large number of people belonging to different walks of life including religious scholars, Mashaykh, and professors were in attendance of the Urs.
The proceedings of the Urs formally started with laying of 'chadar' by Sahibzada Sibghatullah Qadri. The greetings and salutations were sent on the Holy Prophet (peace be upon him) on this occasion.
Dr Hussain Mohi-ud-Din Qadri gave his talk on the life, and work of Dr Farid-ud-Din Qadri and the purpose of his life. He said that Dr Farid-ud-Din was a God-fearing, knowledge-friendly and pious man. He spent his entire life in learning and spreading knowledge and serving the people. He said that his son, Dr Tahir-ul-Qadri, is projecting the soft and bright aspects of our great religion throughout the world today. He said that there is no doubt that pious and virtuous children are an ongoing donation.
Dr Hussain said that spreading contemporary and religious knowledge is a great worship. He said that Allah Almighty be thanked that the passion and commitment that Hazrat Farid-ud-Din Qadri had is being transferred to the next generations with the same fervor, noting that a large number of people both inside and outside of Pakistan are benefiting from this knowledge.
The MQI President said that we are fulfilling our pledge with the fertile land of Jhang by building institutions for dissemination of peace and knowledge, a process which the coming generations will also continue. He said that after construction of the MQI secretariat in Jhang, various educational projects will be launched. He said that youth are the special focus of the activities of MQI that is busy in enlightening them about the core values of Islam in this day and age. He said that opening of a library is also one of the projects, adding that these institutions under MQI will play their effective role in quenching thirst of the seekers of knowledge of Jhang City.