The Lahore-Islamabad long march reaches Dina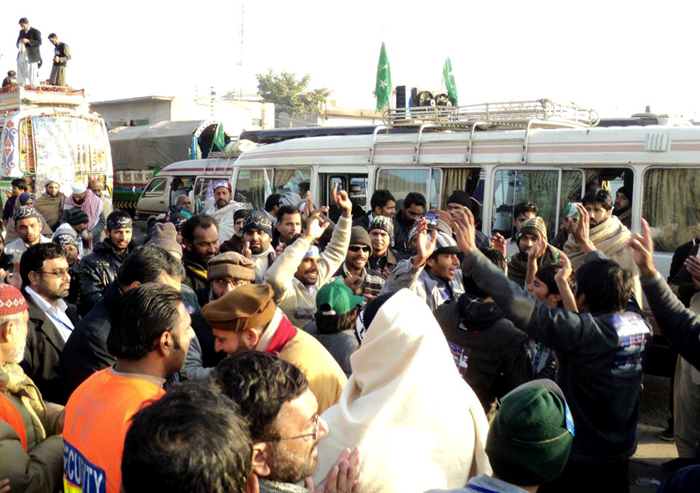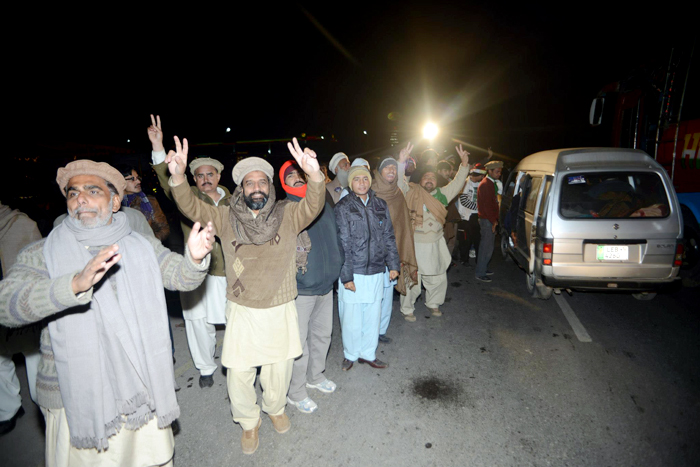 The long march led by chief of the Minhaj-ul-Quran International (MQI), Dr Muhammad Tahir-ul-Qadri, reached Dina at 1:50 pm while the first batch of the march participants has arrived at Islamabad. It kicked off on Saturday in the afternoon from Lahore. MQI activists and the common people were riding on motorcycles, cars, busses and trucks. They were raising slogans and displaying large banners, placards, Dr Qadri's portraits and national flags.
The marchers left Lahore via the Grand Trunk (GT) Road after passing through various thoroughfares, including the Canal Road, Garhi Shahu, Railway Station, Circular Road, Ravi Road and Shahdra.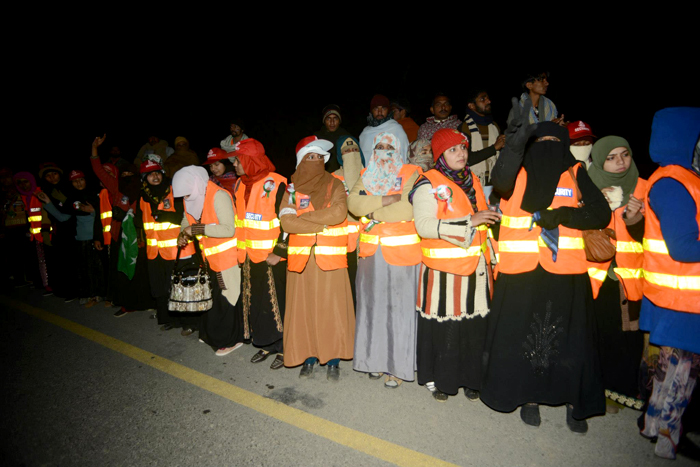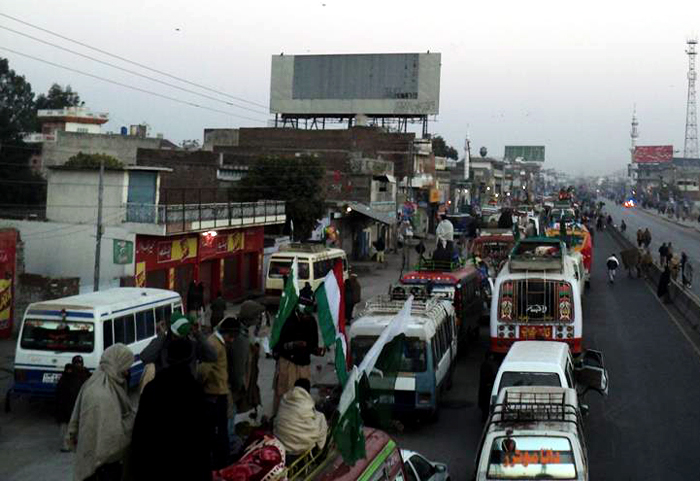 A crane was accompanying the convoy to remove containers or any other obstacle on the way. Before departure, the organisers had stocked thousands of litres of fuel and a large quantity of foodstuff.
Talking to reporters before the start, Dr Qadri said the march was aimed at sending the corrupt and cruel rulers packing once and for all, who had been plundering the public wealth and sucking the blood of the masses and living a life of luxury. He particularly lashed out at the Punjab government, terming it a Yazidi gang whose atrocities had surpassed those committed by Yazid himself, and alleged that the government had impounded buses, arrested drivers and taken away their licences and route permits to hamper the protest.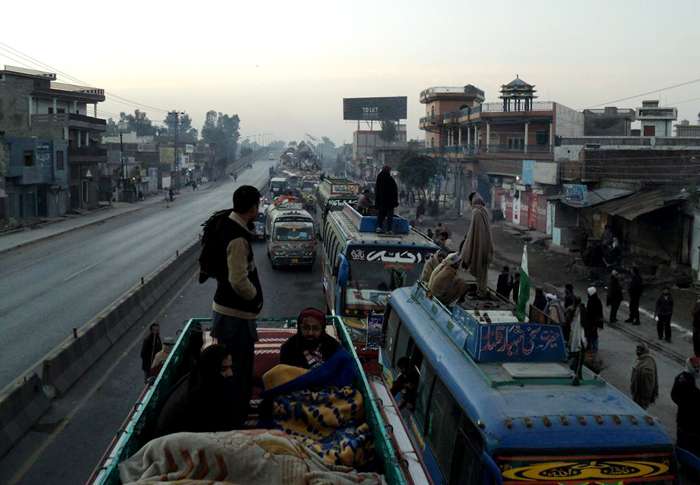 Dr Qadri said his march was similar to that of Hazrat Imam Hussain's followers and the holy warriors of Badr and Uhad, who were travelling without the necessary resources. He said thousands of women in his caravan were marching, just like Hazrat Zainab and Hazrat Sakina in the caravan of Imam Hussain (AS).
The participants reached Shahdara at 7:00 pm while they reached Muridke at 9:00 pm on Saturday where hundreds of people welcomed them. A break was taken at Lalamusa in Kharian for a short-rest and breakfast and to offer morning prayers following which the long march rolled towards the federal capital, which has been converted into a military cantonment in the backdrop of Qadri's march. After the stopover, the marchers moved towards the destination.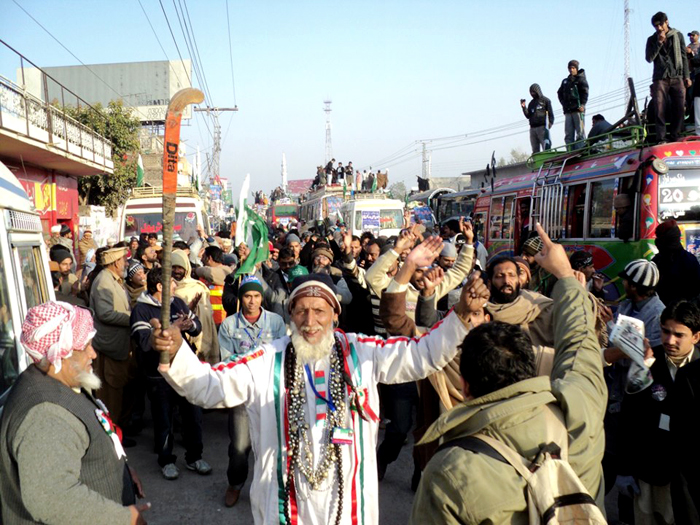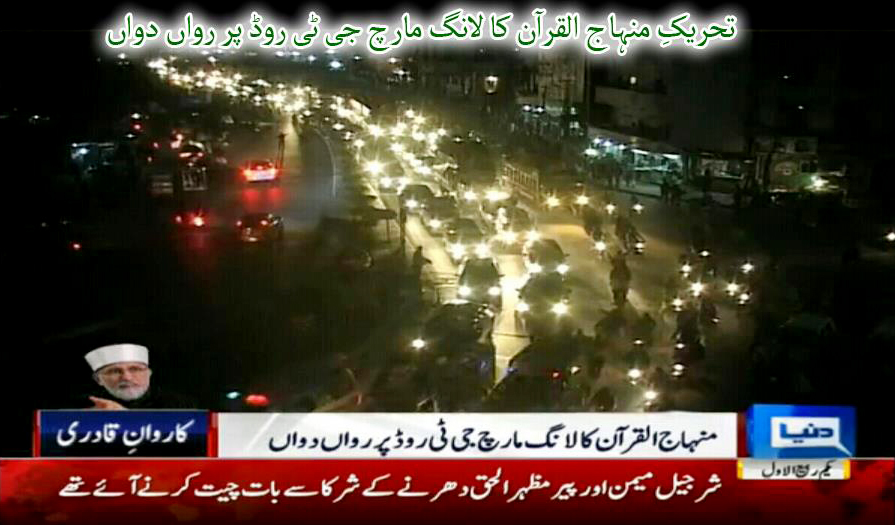 In Kharian, the MQI chief said that more than one million people were participating in the long march. Addressing the media, he said that the long march will end poverty, strengthen the nation and ensure transparency in elections. He maintained that same corrupt leaders will be elected through elections if electoral reforms were not carried out.
The participants of the march are not deterred by the obstacles they had to face or by the cold weather; their morale is high. Dr Qadri told the media persons in Lahore that despite all hurdles the participants had left their cities even on foot to join the march.