Lodhran: PAT rally urges people to join hands for change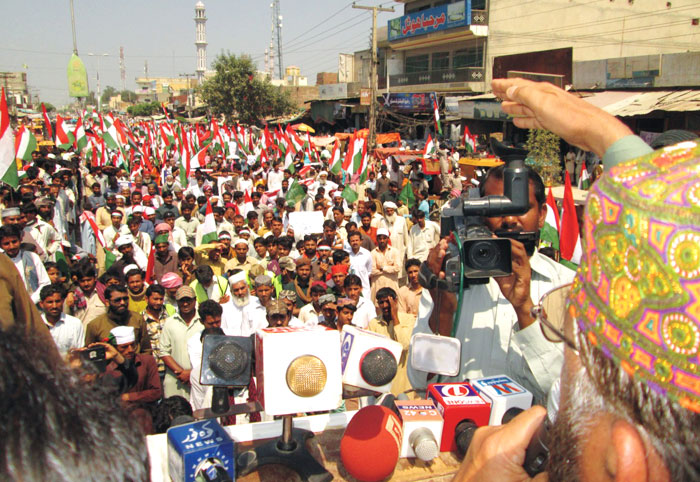 The people are being forced to commit suicide while the ruling elite, ignorant of all that is happening, is busy in merry making and enjoying power. They have forgotten what promises they had made with the nation in run up to the elections. It is high time people took notice of prevailing state of affairs and stoop up to oppression and negation of their rights by the powerful individuals. Dr Tahir-ul-Qadri has exposed the real faces of these people and is leading a campaign for a change in the system through peaceful and democratic means.
These views were expressed by Sardar Shakir Mazari, central vice president of Pakistan Awami Tehreek, while addressing the participants of a protest rally held by local chapter of Lodhran. The rally was led by Sardar Shakir Mazari, Mufti Irshad Hussain Saeedi, Zubair A Khan, Rao Arif Rizvi, Zafar Aftab Bhatti, Aslam Hammad, Azhar Langha Advocate, Rao Ishaq, District President of Kisan Ittehad Sheikh Dildar, Sheikh Hamid, Allama Naseer Baber, and Chaudhry Abdul Ghaffar Sumbal. Falik Sher Wagan, Hamid Ali Khan, Malik Faiz Bakash Arain, Manzoor Khan Baloch, Rana Ashraf Ali, Fauji Ijaz, Yousaf Chunar, Muneer Khan, Malik Mustafa, Hanif Shah, Rana Mukhtar Ahmad, Chaudhry Rashid, Khawaja Qasim, Rana Abdul Sattar, Maher Ramzan Virk, Malik Sultan Arain, Qari Ramzan, Qari Allah Datta and workers of all forums of MQI attended the protest demonstration. Civil society activists including Mirza Saleem Akhtar, Dr Ghulam Murtaza, Dr Tahir Ahmad of Jamat-e-Islami, Press Club President Rao Amir Mahmood, senior journalist Majeed Nashad, Nadeem Shahzad, Sheikh Miraj, Afzal Lodhi, Rana Shakir Mahmood, Rana Zahoor Ahmad, Imran Rehan, Irfan Rehan, Azhar Bokhari and others were also present at the occasion.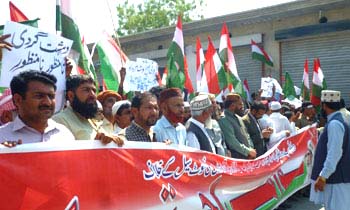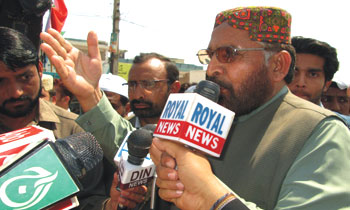 Sardar Shakir Mazari said that the present rulers had got into a habit of begging the whole world in return for compromises and sale of national sovereignty while the same practice had been given fanciful name aimed at fooling people. He said that Dr Tahir-ul-Qadri was the only leader who unmasked the tricks of the rulers, adding that landlords and industrialists snatched from people their right to decent living. He said that 2% of a minority was lording over the 98% of majority while the local politics was held hostage by thugs, mafias and corruption specialists. He said that those who raised the slogan of change had dashed people's hopes by becoming part of the incumbent system. He assured the people that Dr Tahir-ul-Qadri would lead them out of these dark times to bright future.
Mufti Irshad Hussain Saeedi, zonal Nazim of Multan division, said while addressing the participants of the rally, that the days of rule of a few families had been numbered because the Pakistani nation had stood up for their rights.
Dr Zubair A Khan, organizer of PAT South Punjab, said that unless people rose for revolution, mere leadership alone could do nothing. He said that instead of fighting lone battles, it was better that people put their weight behind efforts of PAT to send the corrupt system packing.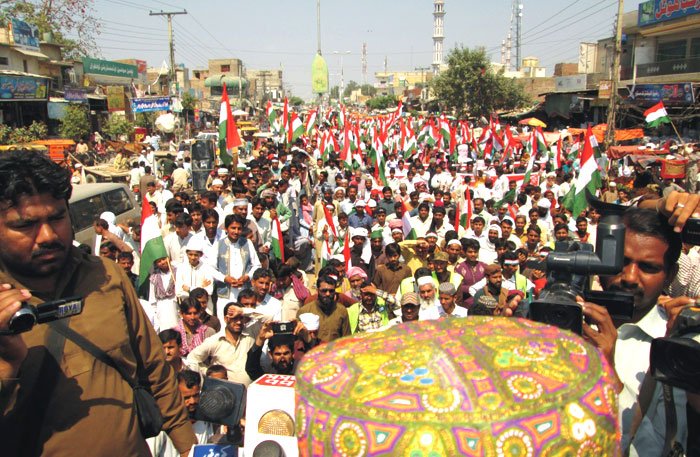 PAT President Zafar Aftab Bhatti said in his address that today's rally was a public demonstration representative of the oppressed and downtrodden sections of district Lodhran. He said that he was grateful to the workers, laborers, farmers, and women for taking time out to take part in the demonstration. He assured the PAT central leadership that the people of Lodhran were ready to act on the call of Dr Tahir-ul-Qadri.
District President of Kesan Ittehad Sheikh Dildar said on the occasion that this oppressive system was a great threat to the existence of Pakistan. He said that we stood by Dr Tahir-ul-Qadri and extended our all-out support to his struggle.
The prestigious PAT rally took off from Minhaj Islamic Centre. It passed through various points in the city to culminate at Ghosia chowk. The rally was attended by hundreds of participants including women. The rally remained peaceful all along and the participants danced to the tunes of national anthems and songs. Stringent security arrangements were in place.