Time for peaceful change ripe: MQI Haveli Lakha
On the 18th of November, the city chapter of MQI Haveli Lakha organized a Workers Convention to review preparations for the mega event of December 23. The proceedings of the programme got underway with the recitation from the Holy Quran followed by Naat.
Al-Haaj Muhammad Riaz Ahmad, head of MQI Haveli Lakha, Zia Ahmad Qamar, Hafiz Sajid Ali, Haji Masood Ahmad, Sheikh Aslam Fayyaz, Haji Manzoor Ali Noori, Ch Rashid Ahmad, Dr Ashfaq Ahmad, Manzoor Ali Ansari, Allama Manzoor Ahmad Qadri, Afzal Tahir, Mian Sabir Hussain, Faiz-ur-Rehman, Ch Shaukat Ali, Farooq Shahzad Ch, Ali Ahmad Ch, Riaz Ahmad Qadri, Sheikh Muddasar Toquir, Dr Tanvir Ahmad Sandhu, and Ch Zulifkar Ali Advocate attended the Convetnion in addition to hundreds of workers belonging to all forums of MQI.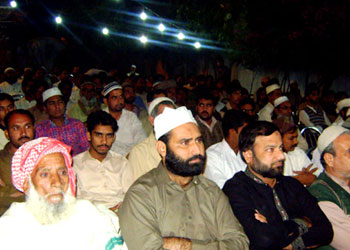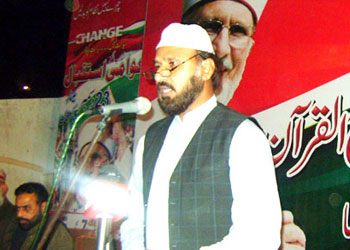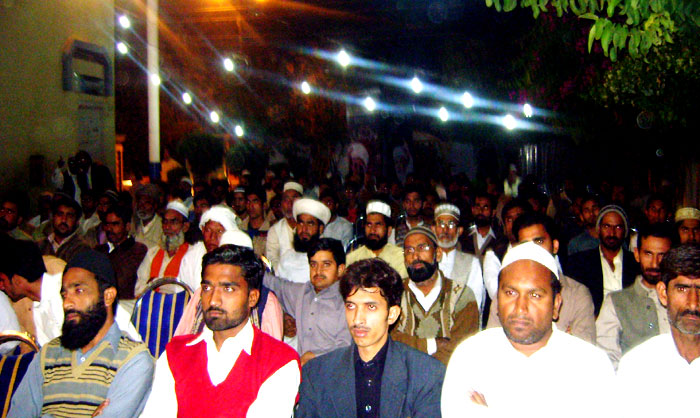 Dr Tanvir Azam Sandhu, central coordinator of District Okara and Chaudhry Zulifkar Ali Advocate, district Secretary General, addressed the gathering. They said that the present electoral system was structured in a manner as to support the moneyed class, land lords, and the big fish with litter to offer for the 180 million people.
They said that if the nation was serious about its future, then it would have to extend support to Dr Tahir-ul-Qadri in his struggle to save the state, not politics. They said that an electoral exercise for a single constituency needed million of rupees as expenditure and it was such an expensive system that anyone from professional and middle class could not even think of taking part in elections.
They said that it was unfortunate that democracy was confined to ritual of elections and it was a second name of corruption, and hooliganism. They said that the 23rd of December would herald a new beginning for the poor when Dr Tahir-ul-Qadri returns to Pakistan to fight for the rights of the poor.
They said that it was time to struggle for change through democratic and peaceful means in order to secure the future of coming generations.