Inaugural ceremony of Minhaj Model English Medium School Haveli Lakha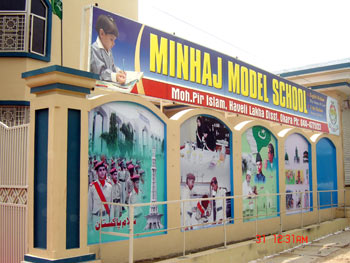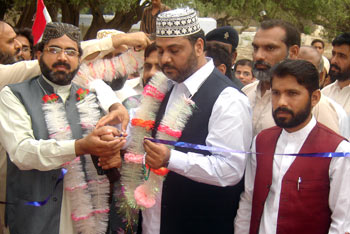 The inaugural ceremony of Minhaj Model English Medium School (Haveli Lakha. District Okara) was held on August 31, 2008. Sheikh Zahid Fayyaz, naib Nazim-e-Ala, and Prof Muhammad Rafique Sayal were the chief guests at the occasion. MD Minhaj Education Society Shahid Latif, Controller Examination Saifullah Bhatti, PAT leader Dr Tanvir Azam Sandhu, Muhammad Yasir Khan and other leaders were also present among the distinguished participants. All guests were warmly welcomed upon their arrival in Haveli Lakha. The office holders of MQI Haveli Lakha chapter escorted the guests to the school in the form of a rally. The young cadets wearing uniforms presented guard of honour to the guests.
Sheikh Zahid Fayyaz, Shahid Latif Qadri and other guests cut the ribbon to formally inaugurate the school. All facilities have been provided in the new building of the Minhaj Model English Medium School such as plastic chairs for the children and sports gadgets, etc. A new concept namely education through sports has also been introduced with a separate hall constructed for this purpose. The provision of science lab up to matriculate level and other facilities distinguishes it from the other schools of the area. This is the second project of MQI Haveli Lakha after Minhaj-ul-Quran Girls Model Schools.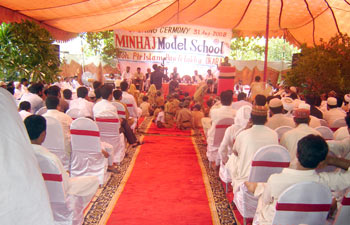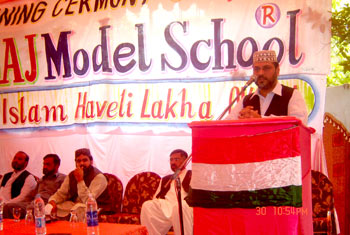 The teaching faculty of schools comprises experienced and educated teachers and majority of teachers are female. The concluding ceremony took place in a venue put up in front of the school. The proceedings got under way with the recitation of the Holy Quran followed by Naat. In addition to the central leaders, the principal of the school and local leaders also spoke on the occasion. Sheikh Zahid Fayyaz and Shahid Latif Qadri appreciated the project and felicitated the local chapter of MQI on its successful accomplishment. Both leaders expressed complete support and cooperation on behalf of Minhaj Education Society. MQI Haveli Lakah and Minhaj English Medium School presented memorial shield to Sheikh Zahid Fayyaz. The programme ended on Dua.