MQI Pakpattan Sharif stages a protest rally
Minhaj-ul-Quran International Pakpattan Sharif brought out a protest rally on May 23, 2010 to denounce the blasphemous sketches posted on the website, Facebook. District Amir of MQI, Al-Haaj Rana Manzoor Ali, led the rally which was attended by a large number of people who belonged to different walks of life and religious parties.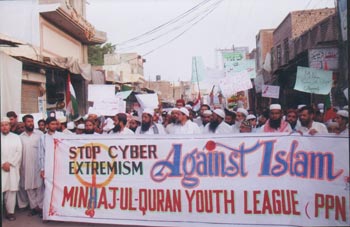 The rally started off from the shrine of Hazrat Baba Farif after Asr prayers and ended on reaching General Bus stand after passing through different areas of the city. The protesters were carrying placards, PAT flags, and banners. Abdul Wahid Naqshbandi Minhajian, Sayyid Abu Dawood Shah Minhajian, Maulana Muhammad Yar Gohar, Pir Muhammad Ali Shakir, Maulana Muhammad Hussain Naqshbandi, and District Amir Al-Haaj Rana Manzoor Ali addressed the participants.
All speakers condemned the Facebook for posting the blasphemous sketches of the Holy Prophet (blessing and peace be upon him) and urged the Muslim Umma to form unity within their ranks. The rally ended on Dua.