Nazima Women League and Nazima Training visit Rawalpindi local chapter
Central Nazima Women League Miss Sumaira Rafaqat Advocate accompanied by Nazima Dawa Fareeha Khan paid a detailed visit to Minhaj-ul-Quran Rawalpinidi local chapter, on May 8, 2010. The visit aimed at following up work of the local chapter in pursuit of the targets fixed in the annual working plan and study the requirements in achieving the objectives as laid down.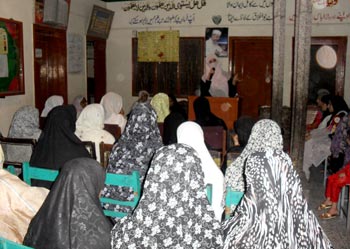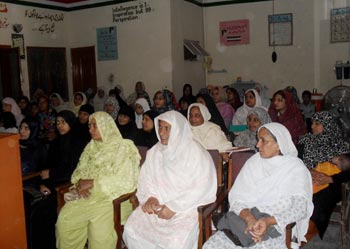 All the members and appointment holders of Rawalpinidi Tanzim were introduced to the visiting central WL leadership along with their portfolios and work areas. Nazima Women League extended her felicitations to the local leadership and the team on finding their strong net-work fully engaged in striving for the achievements of the laid down targets and assured them of their all-out cooperation in moving ahead.
Later, Nazima WL briefed all the participants of the meeting on significance of their responsibility that come on their shoulders by virtue of accepting the service of the Mission. She once again put before them the priorities laid down according to the V-12 and the surveyed the targets according to the working plan. She urged them not to leave any stone un-turned in achieving the left-over targets.
Her elaborate and comprehensive briefing was then followed by question-answer session which was much appreciated and benefited by the participants.