'Bedari e Shaoor' Workers Convention held under MQI Gujar Khan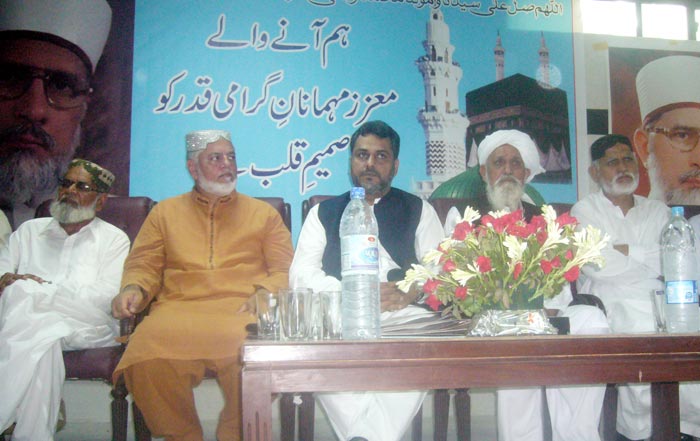 Minhaj-ul-Quran International (Gujar Khan chapter) organized a 'Bedari e Shaoor' Workers Convention in Jinnah Hall, GT Road, Gujar Khan on July 10, 2011. Pir Sayyid Saddique Hussain Shah, patron of MQI Gujar Khan, presided over the Convention, while the chief guests included acting Secretary General of MQI Sheikh Zahid Fayyaz, Director Foreign Affairs Raja Jamil Ajmal, and District Coordinator Anar Khan Gondal. Other distinguished people who attended the Convention included Javed Chaudhry, Ch. Muhammad Ishaq, Haji Muneer, Raja Muhammad Azad, Raja Muhammad Arshad, Raja Muhammad Javed, Raja Shafaqat Ali, Raja Sajid, Zaheer-ud-Din, Abdul Sattar Niazi, and Shakoor Ahsan. The members of executive body such as Raja Muhammad Waqar, Muhammad Riasat Qadri, Raja Muhammad Amin, Muhammad Shafiq Mustafavi, and Haji Khalid Mahmood.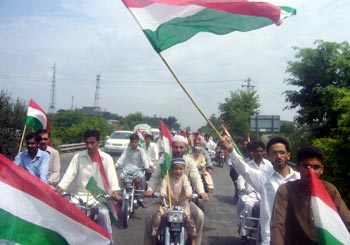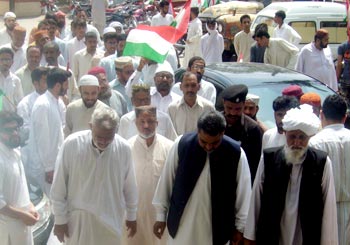 The proceedings of the Convention started with the recitation from the Holy Quran by Hafiz Muhammad Islam Golaravi, whereas six-year old Aansa Dilawaiz presented Naat with 'daff'. Husnain Brothers and Tariq Mahmood Fazali of Mustafavi Naat Council also recited Naat. Muhammad Shafiq Mustafavi conducted the proceedings in a befitting manner.
Special speech of Shaykh-ul-Islam Dr Muhammad Tahir-ul-Qadri about 'Bedari e Shaoor' was shown on the projector. Dr Muhammad Wajid Mustafavi, president of MQI Gujar Khan, in his welcome address, presented the progress report of PP-3 (NA-51). Mahmood Qureshi also presented a progress report before the respected guests about PP-4.
Speaking on the occasion, Raja Muhammad Jamil Ajmal, Director of Foreign Affairs, appreciated the performance of MQI Gujar Khan. Small girls of PP-4 presented a Tehreeki song to pay tribute to Shaykh-ul-Islam Dr Muhammad Tahir-ul-Qadri.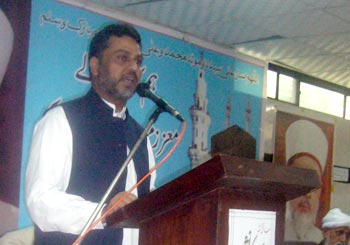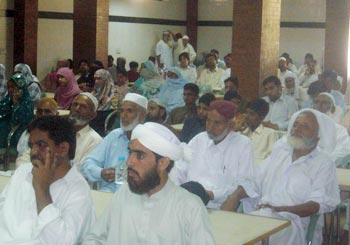 Acting Secretary General Sheikh Zahid Fayyaz talked about the purpose of 'Bedari e Shaoor' and responsibilities of the workers in this regard. He said that MQI is fully aware of its religious, moral, spiritual and social responsibilities and conveying the same message to people. He urged the workers to present people the book of Shaykh-ul-Islam and their own character so that people join the fold of MQI.
Dr Muhammad Wajid Mustafavi thanked the guests at the end of the programme and the Convention came to an end with the Dua of Pir Sayyid Siddique Hussain Shah.