MWL's interfaith peace moot calls for efforts to promote peace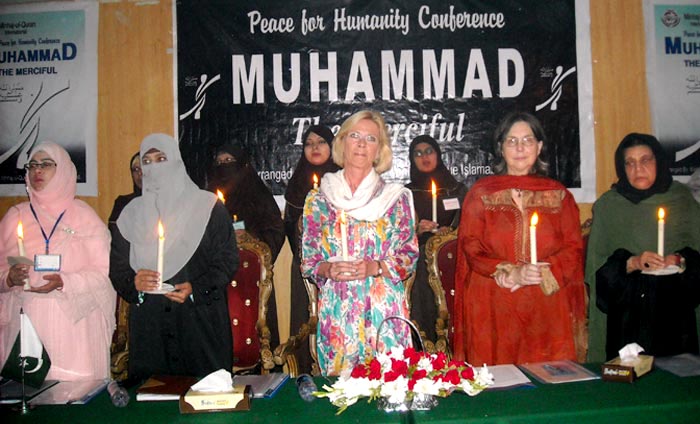 Displaying harmony and unity, hundreds of women representing different faiths, cultures and beliefs converged at National Press Club Islamabad on Sunday (29th of April, 2012) to attend the first ever women inter-faith peace conference in the country. The conference titled: 'Peace for Humanity, Muhammad (SAW): The Merciful' was organized by Minhaj-ul-Quran Women League, Islamabad chapter. Along with this conference, a book exhibition was arranged in which books and CDs by speeches of Shayk-ul-Islam Dr Muhammad Tahir-ul-Qadri were put on display.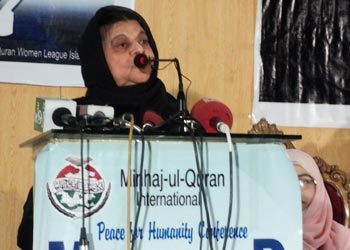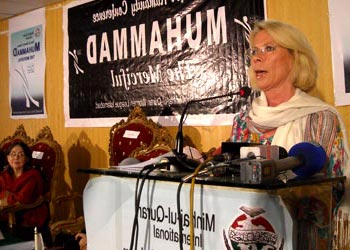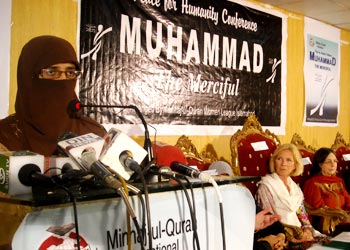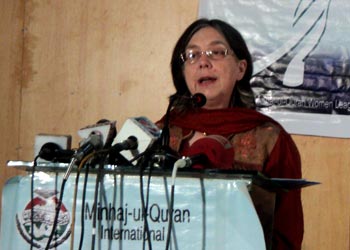 The hundreds of visitors including females and males frequented the exhibition. Among the prominent guests were Ambassador of Norway, H.E. Cecilie Landsverk, General Secretary MWL Mrs. Noshaba Zia, Director Christian Study Center, Dr. Christine, Dr. Shugufta Moosvi, Chief Organizer All Pakistan Muslim League Sayyada Firdos, Federal Ministry of National Harmony's representative Raheela Farheen, Chief Editor Daily News Channel Mrs. Aamra Sheikh, Dr. Samina Iqbal (P.I.M.S) and Nabeeha Jamil. Besides, the conference was attended by women religious scholars, peace advocates and human rights activists.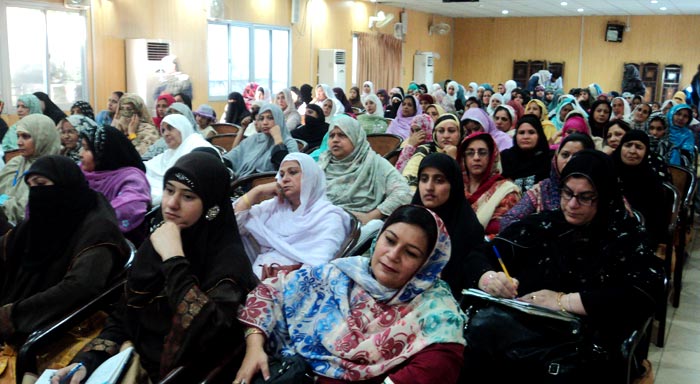 The conference started off with the recitation of the Holy Quran by Saira Khan and Naat was recited by Saleha Zaman. The host of the conference was Hina Amin, Chief Coordinator of MSM Islamabad.
In her welcome address, Ms Razia Naveed, president Minhaj-ul-Quran Women League Islamabad, said that the objective of the conference was to call on women of all religions and faiths to come forward and play their due role to strive for a durable peace and harmony in the world. "Women of all faiths should work in unison to bring an end to an era of extremist terrorism and restore peace, love and smiles on the faces of mankind," she said.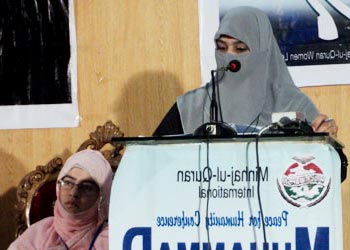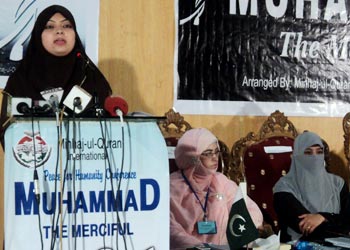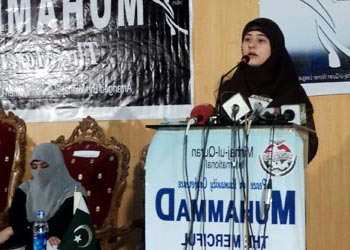 Ms Naveed said that at the heart of all religions there was a belief in the sanctity of the lives of the innocent and that must be highlighted. She said that through the conference, they wanted to give a clear message to the world that terrorism and extremism had nothing to do with Islam and it was unfortunate that actions of a select group of misguided individuals were being linked with Islam, which was unfair and unjustified.
Ms Razia Naveed said that the Holy Prophet (Peace Be upon Him) was an ideal embodiment of mercy, sympathy, magnanimity, justice, forbearance and forgiveness. "There is not a single instance to show that the Holy Prophet ever used force or preached violence to promulgate Islam or revenge against his foes," she added.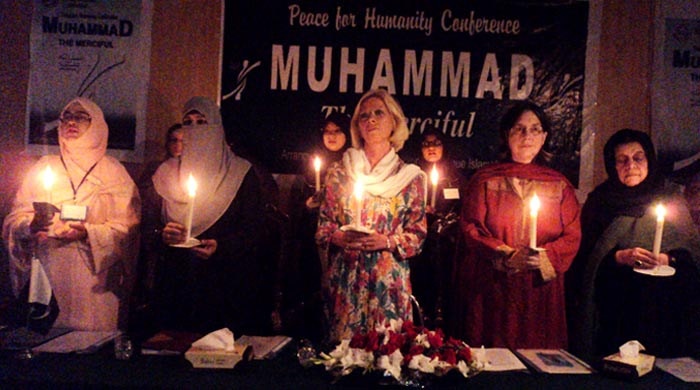 Speaking on the occasion, Central General Secretary Minhaj-ul-Quran Women League Ms Noshaba Zia said that after 9/11, the difficulties of the Muslims around the globe had increased manifold. She said that terrorism and extremism had affected the Muslims more than the world. Thousands of people, she said, were killed in terrorist incidents, affecting millions of families. "Extremism has divided people and produced pessimism and despondency. The women can play an active role to make this world a peaceful world," she added.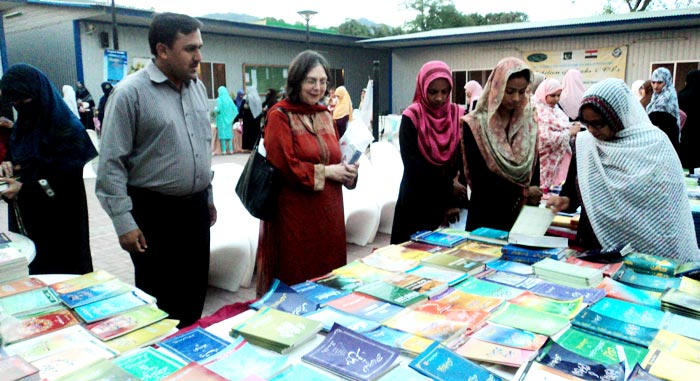 Ms Zia said that the patron-in-chief of Minhaj-ul-Quran International Dr. Muhammad Tahir-ul-Qadri started the process of holding peace conferences on September 24 last year to propagate the message of peace, as preached by all religions. She said that the Holy Prophet (Peace Be upon Him) gave the lesson of brotherhood, tolerance, moderation and peace. "All Prophets and religions gave the message of peace and harmony in the world. We must prove ourselves true inheritors of this legacy and dedicate ourselves to the establishment of peace in the world," she remarked. She hoped that conference would go a long way in strengthening inter-faith ties between the Muslims and the non-Muslims.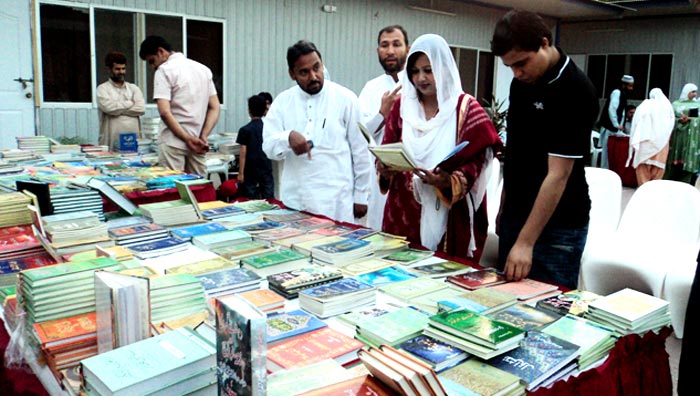 Norwegian Ambassador, H.E. Cecilie Landsverk congratulated Minhaj-ul-Quran Women League on holding a grand and purposeful conference. She said that the world needed peace, security and brotherhood more than before. The women can play an active role to make this world a peaceful place. Hence, irrespective of their religions, they must join hands and turn it into a hub of happiness.
Dr. Shugufta Moosvi asked the forces of peace to join their hands who wanted to eliminate fear, hatred and bigotry from the world. She said women could help their governments to carve out a new direction for humanity where people could live in a harmonious environment and have access to the necessities of life.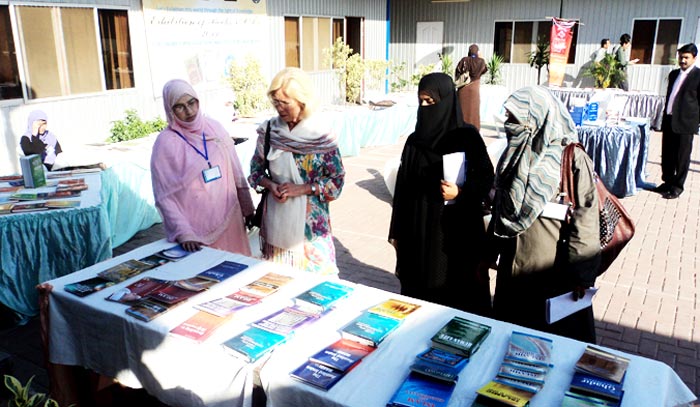 Director Christian Study Center, Dr. Christine asked followers of all religions to get united on the minimum agenda of humanity. She expressed the hope that the peace conference would lay the basis for establishment of brotherhood among the followers of different religions.
During the course of the conference, the women signed a declaration meant to promote peace and foster resistance and opposition to extremism. At the end, Qaseeda Burda Sharif was recited by all participants and candles were lightened as a symbol of peace. Mrs. Nusrat Amin, Mrs. Rubina Sohail, Mrs. Salma Farooq, Mrs. Jamila Butt, Mrs. Sajida Khawar, Mrs. Sadia Shahid, Bushra Jaffar, Sayyada Sadia Zafar and many others put their best efforts for this successful conference.