Rawalpindi: Zarb-e-Amn Conference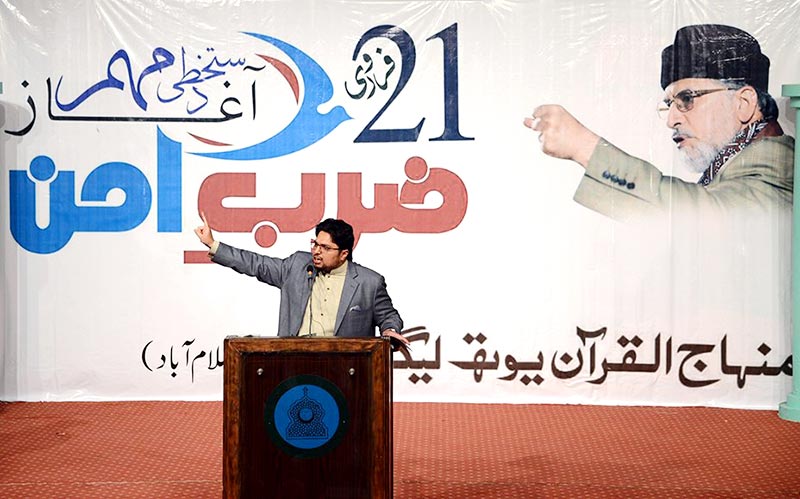 Dr Hussain Mohi-ud-Din Qadri, president of MQI, has said that the rulers are quite perturbed due to Operation Zarb-e-Azb launched by Pakistan military and peace initiative started by Dr Tahir-ul-Qadri. He said that discriminatory and class-based system of education is giving birth to terrorism and extremism in the country, adding that it is responsible for producing the rulers and the ruled with a huge and unbridgeable gulf between them. He said that we pay homage to all those martyrs who rendered the sacrifice of their lives in the Operation Zarb-e-Azb.
Dr Hussain Mohi-ud-Din Qadri expressed these views while addressing the inaugural ceremony of Zarb-e-Amn signature drive launched countrywide by the PAT Youth Wing on Feb 21 here in Lahore. He said that incidents of terrorism did decrease and law and order situation improved in the country as a result of Operation Zarb-e-Azb but added in the same breath that guns and tanks are not enough to eliminate the ideology of radicalism and terrorism. He said that uniform system of education, provision of education and health to people coupled with socio-economic justice and employment opportunities was the key to win this battle of hearts and minds. He said that it is in this context that Zarb-e-Amn and Zarb-e-Ilm are so critical in this long-drawn out war of ideologies.
Khurram Nawaz Gandapur, Mazhar Mahmood, senior columnist Mazhar Barlas, Rahat Kazmi, Umar Qureshi, Inam Mustafvi, Azhar Akbar, Faran Shahid, Rai Sajid, Ghulam Ali, and Waseem Khattack also addressed on the occasion. Brig (r) Muhammad Mushtaq, President of PAT Northern Punjab, Shahzad Naqvi and Adnan Javed were also present.
Dr Hussain Mohi-ud-Din Qadri congratulated the PAT Youth Wing on launching Zarb-e-Amn signature drive and said that survival of Pakistan is closely linked with durable peace. He said that the politically extremist rulers are killers of bright future of the youth. He said that dollars and riyals are not letting terrorism be eliminated from Pakistan. He said that these are the PAT and MQI workers alone who gave the sacrifices of their life while taking on the corrupt and exploitative system. He said that the killers knew that real revolutionary were the MQI workers, others were coffee sipping chocolate heroes. He made it clear that terrorism would not end without eliminating oppression and tendencies of extremism from within the society.
Dr Hussain Mohi-ud-Din Qadri said that had those who considered the viewpoint of Dr Tahir-ul-Qadri correct while sitting comfortably before their TV screens during the sit-in contributed their part against exploitative system, the nation would not have been subjected to such unbearable conditions today. He said that Allah Almighty does not change the destiny of nations simply owing to struggle of a few people, adding that for this to be possible, every individual will have to come forward and play his role in this regard. He said that struggle for revolution will continue unabated.
The President of MQI demanded that uniform system of education should be enforced in Pakistan. He said that the government should immediately make arrangements for imparting of technical and vocational training to the students studying in religious seminaries. He said that syllabi of seminaries should be revised and Islamic Curriculum designed by Dr Tahir-ul-Qadri can be benefitted from in this respect. He said that those who churn out Fatwas against others should be put behind the bars and educated youth should be given jobs on merit. He demanded that the system of governance should be revised as the current system has not given nation anything except terrorism and Model Town-like tragedies.