PAT not to contest elections: Tahirul Qadri
Business Recorder
Sunday, 17 March 2013 20:47
Posted by Abdul Ahad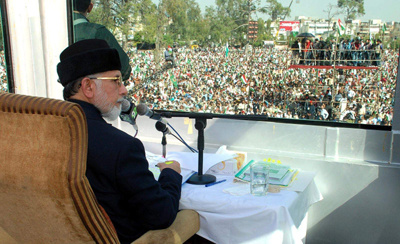 RAWALPINDI: Dr Tahirul Qadri has announced that the Pakistan Awami Tehreek (PAT) will not contest the upcoming general elections.
Addressing a rally here at Liaquat Bagh on Sunday, Dr Qadri said that the PAT would rather hold sit-ins at polling stations across the country on election day.
Dr Qadri said that electoral reforms promised to him were not fulfilled and he was not willing to become a part of the current corrupt political system.
He said members of the parliament should not be given development funds and they should act as Legislators.
He said that the formation of the Election Commission of Pakistan (ECP) was not under article 213 of the constitution, adding that the commission should be impartial and reconstituted.
He said he was ready to withdraw his claim that the election commission was unconstitutional if members of the Commission take oath that their posting was in line with the constitution.
The PAT Chief called for the election of the Prime Minister through popular vote instead of the National Assembly. At the same time he demanded that Chief Ministers and their cabinets be dissolved and powers transferred at the local level.
Dr Qadri said his campaign for revolution would continue till a real change takes place.
Source : http://www.brecorder.com/top-news/1-front-top-news/111077-pat-not-to-contest-elections-tahirul-qadri.html