Rawalpindi: Dr Tahir-ul-Qadri's echo of change reverberating throughout the country, Dr Hassan Mohi-ud-Din Qadri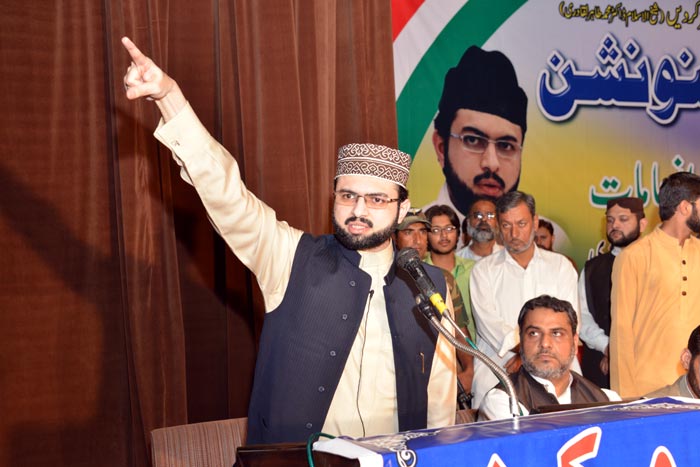 Chairman of the Supreme Council Dr Hassan Mohi-ud-Din Qadri has said that the democracy is being crucified in Pakistan through anti-people steps, adding that the judiciary and the Election Commission were keeping mum over the prevailing state of affairs. He said that the millions of people who were desirous of change had come to know that the dream of change could not be realized in the presence of exploitative system of governance. He said that it was for this reason that they were flocking to join the ranks of 'Namazis' whose prayer would be led by Dr Muhammad Tahir-ul-Qadri.
Dr Hassan Mohi-ud-Din Qadri expressed these views while addressing thousands of people at a district workers convention of PAT (Islamabad and Rawalpindi chapters) in Arts Council Hall yesterday.
The Chairman of the Supreme Council said that religious values exit from the poverty-stricken societies. Crimes register an unprecedented upsurge, and the very existence of the state is threated by a plethora of threats, both internal as well as external. He said that PAT's slogan of 'save the state, not the system' was raised in this background. He said that in these circumstances, it was incumbent upon thinking sections of society to wage a sustained struggle to put the things back on track. He said that electoral nexus and relationship of the ruling elite with the extortionists, militant wings, and banned outfits were a known fact. He said that due to merciless plunder of national resources, above 50 million people were forced to live miserable life below the poverty line. He said that the national wealth of the country was concentrated in just 0.2 million powerful people.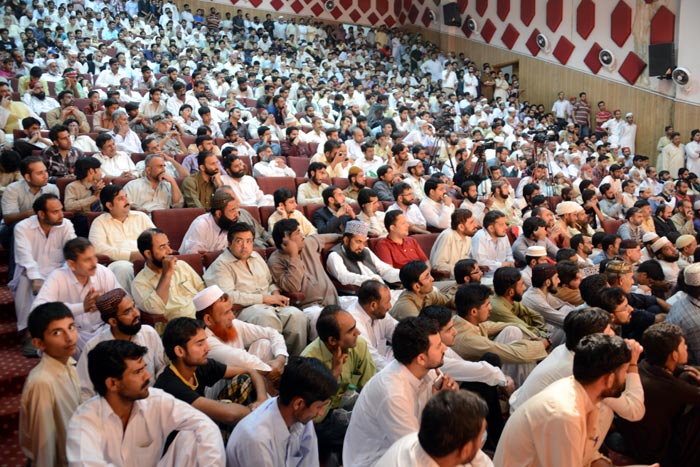 Dr Hassan Mohi-ud-Din Qadri said that the echo of Dr Tahir-ul-Qadri's revolution was reverberating throughout the country. He advised the workers to knock on every door and prepare people for practical struggle against the exploitative system.
Earlier, hundreds of workers of MSM and MYL and people at large extended Dr Hassan Mohi-ud-Din Qadri a very warm welcome at Gujar Khan, Rawat, and Faizabad chowk. Many a youth kept on dancing before his car. He was brought to the main venue in the form of a rally. The charged youth raised slogans on the occasion. A large number of women of Minhaj Women League also attended the convention.
Addressing the participants, PAT President Sheikh Zahid Fayyaz said that 'crime' of Dr Tahir-ul-Qadri was that he wanted to free Pakistan from the evil clutches of the corrupt feudals and capitalists and make it a moderate, Islamic, welfare state in line with the vision of the Quaid-e-Azam. He said that those who claimed to bring about change were disappointed at the outcome of the elections. He reminded that we had already said that they would not only be disappointed themselves but would also disappoint others. He said that PAT's public awareness campaign was at its peak.
He said that Dr Tahir-ul-Qadri had raised people's awareness of the Constitution, adding that had the Constitution of Pakistan been followed in letter and spirit, the masses would not have suffered the way they were. He said that those who wanted to bring about change would have to become part of caravan of revolution. He said that we would not rest until we demolished the obsolete electoral system.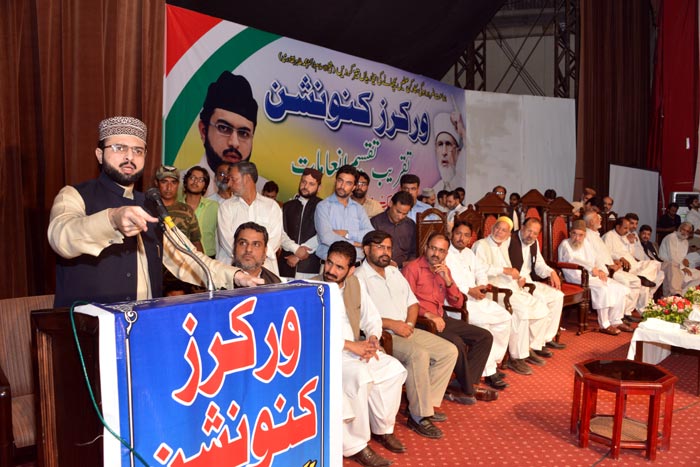 Expressing his views at the workers convention, Khurram Nawaz Gandapur, PAT Secretary General, said that only four months had passed since the government was formed and every one was speaking the language of Dr Tahir-ul-Qadri due to anti-people policies of the government. He said that people were now coming round to the idea that the current system was outdated, which if allowed to continue would destroy the country. He said that the present rulers raised a lot of hue and cry over corruption of the previous government but when they were in a position to take some action, they chose to stay mum, which was a clear illustration of politics of deal-making between both parties of the status quo.
Delivering his speech, Ahmad Nawaz Anjum said that the defining identity of MQI is the love of the Holy Prophet (PBUH). He said that MQI is not a religious organization in the traditional sense but a revolutionary one. He said that Dr Tahir-ul-Qadri's struggle against the incumbent system had created fear among the anti-Pakistan and anti-Islam sections. He said that we would achieve the target of enlisting support of 20 million people well ahead of time.
The local leaders of PAT and MQI including AK Gondal, Saeed Raja, Malik Afzal, Allama Haider Alvi, Ghazanfer Khokhar, Ibrar Raza Advocate, Ishtiaq Mir Advocate, Ghazanfer Shah, Dr Wajid, Ch Javed, Mansoor Qasim, Kamran Mateen, Ghulam Ali Khan, and Sohail Abbasi in addition to thousands of workers were present on the occasion. Dr Hassan Mohi-ud-Din Qadri gave away shields among those who performed exceptionally well during the public awareness campaign.