Local body of MWL PP 10-A Rawalpindi restructured
As a part of campaign to reorganize local chapters of Minhaj Women League (MWL), District President of MWL, Mrs. Gull-e-Rana visited PP 10-A area at the head of a delegation of MWL Rawalpindi. The purpose of reorganizing the local chapters is to inject fresh dynamism and new ideas to promote Dr Muhammad Tahir-ul-Qadri's message of democratic, peaceful change at the grassroots.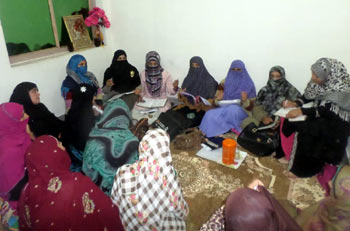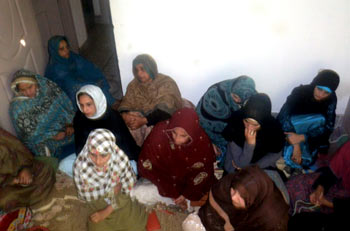 The reorganization ceremony took place on March 6, 2014 at Mrs. Noreen Riasat's residence. The workers of MWL Rawalpindi attended the programme.
The proceedings of the event got underway with the recitation from the Holy Quran followed by Naat. Ms. Noreen Riasat, being the host, welcomed the guests and briefed the participants about the purpose of the meeting.
President Mrs. Gull-e-Rana, in her view, appreciated the hard work of the outgoing body of MWL. She said that the MWL office holders put in their best efforts to organize women and promote awareness of their rights. He said that greater acceptance of Dr Tahir-ul-Qadri's message was owed to the dedication and commitment of the outgoing team.
She further said that Pakistan is a resource-rich country but incompetent leadership and corruption have eaten into vitals of the state and society. She said that the poor were getting poorer and the rich richer. She said that heavy responsibility lay on the shoulders of new body to carry forward the message of peace and love. After due consultations, the following members were assigned new responsibilities:
President
Ms. Sabra Rehman
 
Secretary General
Ms. Noreen Riasat
 
Secretary Dawa
Ms. Nazima Maqsood
 
Secretary Training
Ms. Waheed Shabbir
 
Secretary Finance
Ms. Farzana Mir
 
Secretary Information
Ms. Salma Manzoor
MWL President and her team congratulated the new office holders and assured them of their complete cooperation. The meeting concluded with prayers.
Sahira Shah
Sec Info MWL Rawalpindi