Abbotabad has given its verdict in revolution's favor: Tahir-ul-Qadri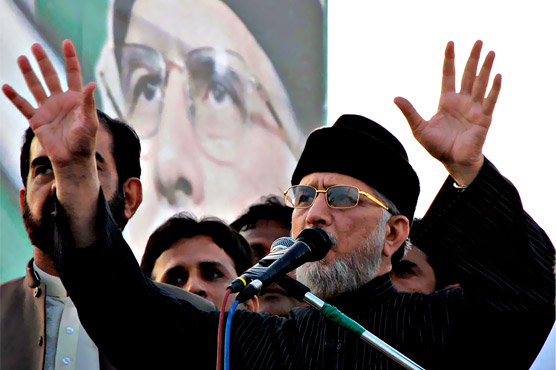 We haven't ended Islamabad sit-in, we have expanded its scope; war has just begun. Qadri
ABBOTABAD: (Dunya News, Web Desk) – Pakistan Awami Tehreek (PAT) chief Dr. Tahirul Qadri has said that Abbotabad has given its verdict in the favor of revolution. He said that the sit-in in Islamabad has not been ended. In fact, he said, the scope of the revolution has just been expanded. He said that the war has only begun.
Addressing the PAT gathering today (Thursday) in Abbotabad, Tahirul Qadri said that people used to say that the sit-ins were staged on the advice of the 'establishment'. "Later, when they were unable to prove anything, they started terming it the 'London Plan' but the revolution hasn't ended despite all the allegations of the opponents", said PAT chief. He said that PAT is not concerned about the critics; all it is concerned about is revolution. "Our revolution will only end with the end of status quo", said PAT chief.
Tahirul Qadri said that he will stage the sit-in on Friday in Haripur city of Hazara. After Muharram, he said, stage will be set in Bhakkar on November 23. He claimed to stage as big a gathering in Bhakkar as he staged at Minar-e-Pakistan, Lahore. On December 5, Sargodha will be the stage of revolution. On December 21, gathering will be staged in Mansehra. On December 25, gathering will be staged in Karachi.
"Who's right and who's wrong will only be decided by the people of Pakistan", said PAT chief. He said that no 'paid' journalist or analyst can decide whether a movement is successful or not. He said that he will never give up on his objective. "Neither have we given up on our objective, nor shall we do it in future", he said.
Responding to criticism on ending Islamabad sit-in, Tahirul Qadri said that Islamabad sit-in was never ended. 'Revolution' march was the first phase of the revolution. Next phase was the sit-in, he said. PAT chief said that he wanted to end the government in the first phase but God had other plans. He said that the movement has now spread throughout the country. He said that people have now stood up for the first time after the Pakistan National Alliance movement of 1977. He said that the 'GoNawazGo' movement will bring down the government.
Source: dunyanews.tv