Anti Blasphemy Rally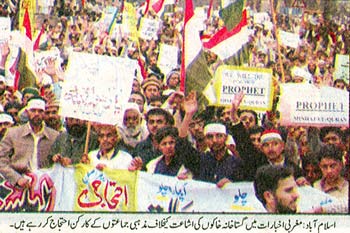 An anti Blasphemy Rally was organised by Pakistan Awami Tehreek (PAT) in Islamabad to protest against the publication of the blasphemous caricatures by newspapers around the world. The rally demanded the newspapers to apologise unreservedly and also called upon the concerned governments to take action to prevent such blasphemy taking place again in the future.
The rally was addressed by Agha Murtaza Poya Senior Vice Chairman of PAT, Allama Ali Ghazanfar Qararvi, Abdul Hayy Alavi, Umar Riaz Abbasi and others. Addressing large crowds they said that freedom of speech was not absolute and it was not an open licence for blasphemy, disrespect, slander and defamation. They called upon the concerned countries to pay attention to the fact that condemnation of the publication of the caricatures by world leaders together with the UN, EU and the OIC proves they have no choice but to take prompt action against the newspapers and accept the fact they were wrong to allow the publications of the caricatures. They regretted that the governments of these countries could have prevented the world wide controversy if they had recognised the criticality of the matter and put an end to it right from the out set.