Minhaj-ul-Quran Youth League and MSM Vow for Peace and Brotherhood' Youth Convention in the City of Hawks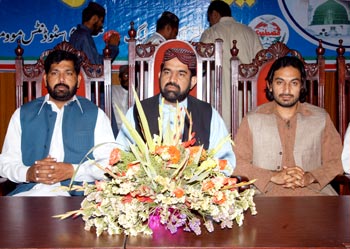 Reported by : Ateeq-ur-Rehman
Translated by : Ali Akbar Alvi (Minhajian)
Minhaj-ul-Quran Youth League and Mustafvi Students Movement held incredibly purposeful conference in Sargodha known as city of Hawks. Dr. Raheeq Ahmad Abbassi, Nazim-e-Aala Minhaj-ul-Quran International, presided over the conference. Sajid Mehmood Bhatti, Nazim Youth League was the chief guest of the conference. Among the honorable guests, there were Bilal Ahmad Mustafvi, Chaudary Zaheer Ahmad Gujjer, and central leaders of Minhaj-ul-Quran International. All the honourable guests were given a warm and enthusiastic welcome on their arrival in the city and they were garlanded. They were brought to avenue in the form of delegation, while thousands of members of Minhaj youth League and Mustafvi Students Movement were chanting slogans that display their love, affection and affiliation with their movements.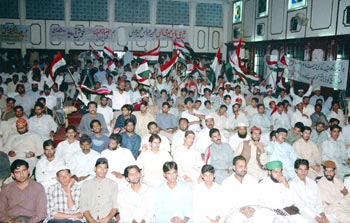 A vast majority of youngsters along with thousands of women and affiliates of Minhaj-ul-Quran International attended the conference. Dr. Raheeq Ahmad Abbasi said in his speech that the youth are the greatest assets of any nation. But today they have become an unfortunate prey of aimlessness. There is no guide on whom they can believe that is why they become a toy in the hands of terrorists and seek short cuts to fight against the challenges in the arena of test and trial. They have lost faith in fair play, justice and discipline. Minhaj-ul-Quran Youth League and Mustafvi Students Movement have come forward to save and protect that asset. If to we want to bring the Muslims out of the present state, we must train our youths well spiritually. He said Shaykh-ul-Islam always gives too much importance to them and provided them opportunities that help them grow in their future career and undertakings. He also said that The Muslim Ummah now days going through hard times and Minhaj-ul-Quran International is striving hard to promote unity, discipline and faith among the Muslims so that they may be able to attain their lost status and position. And he said that he believe that the youth can play a vital role in the reconstruction and the rebuilding of the nation.
He inspired the new affiliates not to sit at their homes waste their time with idle pursuit sand do practically well to promote the mission of Minhaj-ul-Quran International. He urges them to join their hands to establish the mission on sound basis.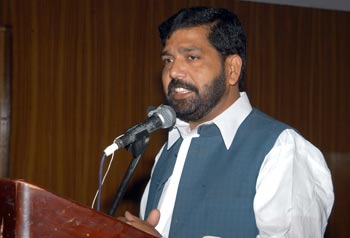 He also pointed out that it is terribly impossible to reach the destination of Mustafvi Mission without the support and backup of the youth. We can have the support of the public only if we invite them to that mission. We are to call the people towards the mission in a systematic way. He said, the best of the means they have for that cause are the speeches of Shaykh-ul-Islam Dr. Muhammad Tahir-ul-Qadri. The message can be delivered well through his own communication. That is why they have started to establish CDs Exchange centres through out the country. He said Minhaj-ul-Quran International would make possible the availability of CDs with fifty percent discount. The centre will bear fifty percent of their price, while fifty percent of it, will be managed by the local people. Revered Chaudary Ismail Sindu and Dr. Zafar Ali Naaz announced that they will donate and sponsor for one hundred CDs Exchange Centre.
Nazim-e-Aala also lauded the efforts extended by Mian Majid and his team for their untiring efforts they extend to promote mission. He also announced a special shield for him in the recognition of his services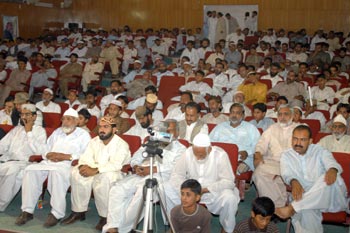 Sajjid Mehmood Bhatti said that it is beyond doubt that Sargodha is the city of Hawks and it is also quite obvious that Minhaj Youth League and Mustafvi Students Movements are also a Caravan of Hawks. He said, The Muslims are going through very hard times, and it is a time of test and trial for them. A storm of different conspiracies is engulfing them badly. The adversaries of Islam with a proper planning destroying Islamic Values and they are imparting the germs that may astray them.. He said that due to increasing unemployment, many of youngsters are committing themselves suicide and going to be prey of terrorism. The youngsters will have to come to cope with the situation. They will have to architect themselves to be leading figures of Minhaj-ul-Quran because the coming century is the century of Minhaj-ul-Quran International.
Chaudary Ishtiaq Gujjar, the president of Youth League said in his speech that Minhaj-ul-Quran International is the only platform where the students and youngsters may avail the opportunity to train them well for their future career and undertakings of the world hereafter. And play their important in the reformation of society.
Baber Ali Chaudary, Tanveer Ahmad Khan, Majid Hayyat and Muhammad Ismail Sindu also expressed their views about Minhaj-ul-Quran International.
What noteworthy here is that more than three hundred youngsters joined Minhaj Youth League within last one month. All these new affiliates were welcomed and presented shields and certificates for joining Heavenly mission. Majjid Hayyat introduced new affiliates and later on Dr. Raheeq Ahmad Abbasi took an oath from them. More than fifty people were awarded for their struggle to promote the mission of Minhaj-ul-Quran International. Mustafvi Students Movement also put the books and Cds of Shaykh-ul-Islam for exhibition and sale. The programme ended with prayers to Allah Almighty for the success of the cause of Minhaj-ul-Quran.