Congregational marriages under MWF Khanqa Dogran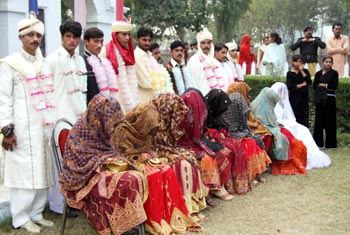 Minhaj Welfare Foundation (Khanqa Dogran chapter) organized a ceremony of congregational marriages on December 16, 2008. Director MWF Dr Shahid Mahmood, Amir-e-Punjab Ahmad Nawaz Anjum, Pir Syed Azmat Ali Shah Bokhari, Mian Maqsood Ahmad, Sheikh Arshad, Chaudhry Muhammad Youqub, Mian Munwar Hussain Doger, Rai Ijaz Ahmad Khan, and Chaudhry Serwar Hussain were the guests of honour. A large number of distinguished people also participated in the ceremony. Held under the joint cooperation of Minhaj Welfare Foundation and Dar-ul-Ihsan Welfare Society, the Nikkahs of 9 Muslims and 1 Christian daughters of poor families were solemnized.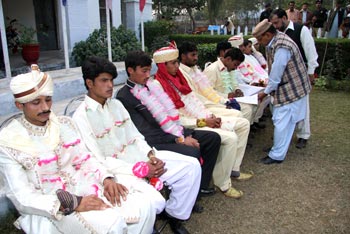 Addressing the ceremony, Director MWF Dr Shahid Mahmood said the congregational marriages of poor daughters of society had become a prominent feature of the work of Minhaj Welfare Foundation. MWF was serving humanity without any discrimination of race, religion, gender and colour. Amir-e-Tehreek of Punjab, Ahmad Nawaz Anjum, said MWF was busy in the service of people in the domains of education, health and general welfare. It had undertaken numerous educational institutions, free dispensaries, medical camps, financial aid of the poor and construction of orphan home called 'Aagosh' under the leadership of Shaykh-ul-Islam Dr Muhammad Tahir-ul-Qadri. Bridal gifts were distributed among the newly married couples after the conclusion of ceremony.