Minhaj Welfare Foundation & Dar-ul-Ehsan Welfare Society jointly hold congregational marriage ceremony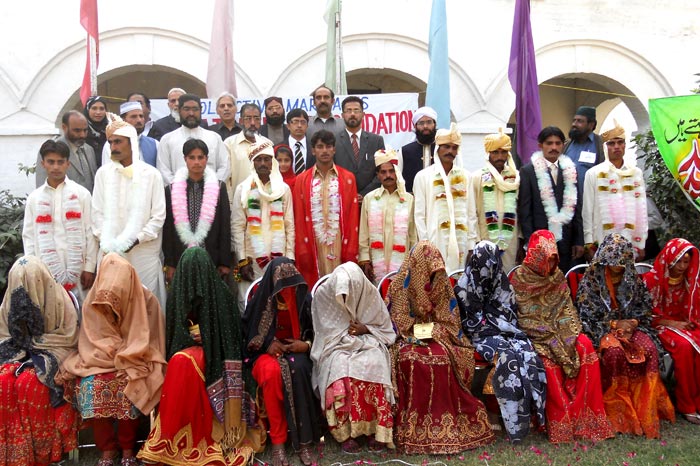 Minhaj Welfare Foundation & Dar-ul-Ehsan Welfare Society jointly hosted a congregational marriage ceremony at Khanqah Dogran on November 20, 2010 in which marriage of ten couples was organized. The ceremony was attended by Director of MWF Iftikhar Shah Bokhari, MNA Sardar Irfan Doager, Dr Sheikh Muhammad Jamil Akhtar, Dr Muhammad Hafeez, Dr Maria Hafeez, Pir Muhammad Mazhar Qadri and Mian Muzaffar Hussain.
Minhaj Welfare Foundation & Dar-ul-Ehsan Welfare Society have been organizing such ceremonies for last many years, and it was the seventh joint initiative of collective marriages, which was held in the Government Boys College on the self-help basis.
MWF's Director presided over the program, while the distinguished audience included Pir Muzaffar Hussain, Pir Hafiz Muhammad Mazhar Muhammadi Tufaili, Rana Muhammad Iqbal, Shiekh Dr Muhammad Jamil Akhtar, Dr Muhammad Hafiz, Dr Kamran, Dr Maria Hafeez, Ahmad Tariq Ghumman, Chaudhry, Nasir Qayyum Bhatti, Sardar Muhammad Irfan Doager, Hafiz Muhammad Zaheer Abbas Qadri, Sheikh Muhammad Hanif, Kamran Sultan, Sheikh Muhammad Arshad, Sheikh Muhammad Naeem, Prof Zulifqar Ahmad, Mian Imran Sabir Doager and others etc.
These ten marriages include one Christian couple as well. The hosts of ceremony, Rana Ghulam Sarwar, and Haji Tariq Mahmood, presented bridal gifts to the couples worth Rs. One lakh and seventy five thousand rupees.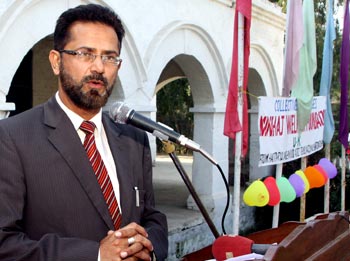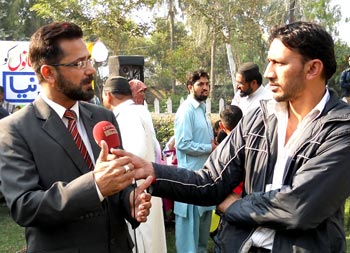 The paths leading to the main venue were decorated most beautifully. The women belonging to Minhaj-ul-Quran Women League were also present to receive the women guests. They threw rose petals on the 'barat' upon their arrival at the main venue. Maria Hafeez and Shazia Tariq rolled out red carpet welcome for the brides.
The proceedings of the ceremony got underway with the recitation from the Holy Quran by Qari Zaheer Abbas Qadri followed by recitation of Naat.
Haji Tariq Mahmmod Aajiz, chairman of Dar-ul-Ehsan Welfare Society, presented the annual report. He told that 71 couples had been married off so far. He said that the society worked hard in the flood-hit areas and made arrangements for the funeral of 47 dead people. He appraised the ceremony that the mebers of society celebrated their Eid with the flood affectees as a mark of solidarity with the flood victims.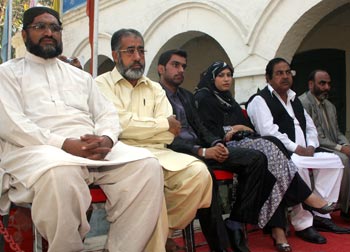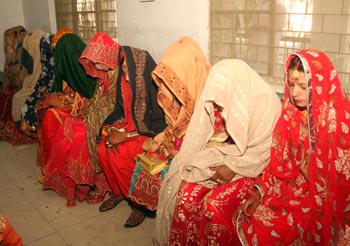 Iftikhar Shah Bokhari, director of MWF, said that MWF would soon establish a hospital in the Khanqah Dogran and Minhaj Ambulance Service would also be launched from there. He felicitated the organizers of the ceremony for their generous support.
Sardar Irfan Doager and Sheikh Jamil Akhtar said that the welfare activities of Minhaj Welfare Foundation and Dar-ul-Ehsan Welfare Society were appreciable. They demanded that Dr Muhammad Tahir-ul-Qadri should be awarded with Nobel Peace Prize for his services to the cause of peace. They said that his Fatwa has done a tremendous service to Islam by allaying the apprehensions and misunderstandings persisting in the western world.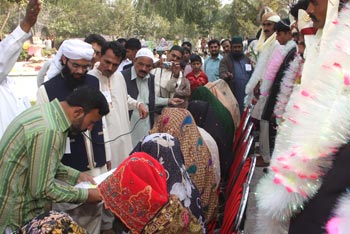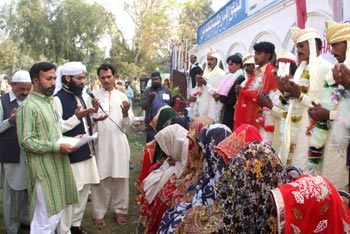 The guests were served with delicious lunch. The guests also gave cash and other gifts to the couples. Haji Tariq Mahmood Aajiz, the head of Welfare Foundation, declared to hold a ceremony of congregational marriages of 23 couples in the holy month of Rabi-ul-Awal.