15 couples married off at mass marriage ceremony in Khanqah Dogran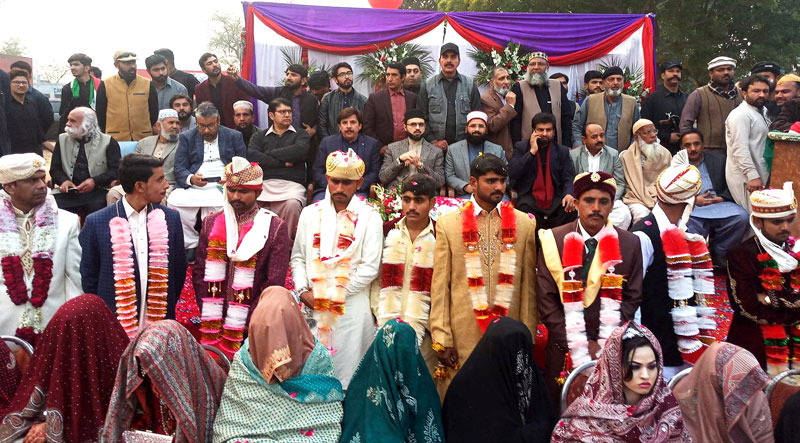 Chairman Supreme Council Dr Hassan Mohi-ud-Din Qadri has said that Islam urges its followers to share the joys and grief of their fellow human beings. He said that the Minhaj Welfare Foundation (MWF) has kept the concept of the respect of humanity alive, which is the fundamental principle of the Islamic brotherhood and the MWF chapters across the country arrange collective marriage ceremonies in which the girls belonging to the poor households are married. He said that the mass marriages have become a flagship project of the MWF. He said that we are working for the betterment of the people in the areas of education, health and general welfare, stating that service of humanity is the best worship. He said that the saints and Sufis are alive in the hearts of the people today simply because they made the service to humanity the mission of their life.
Dr Hassan Mohi-ud-Din Qadri expressed these views while addressing the mass marriage ceremony in Khanqah Dogran on February 5, which was held under the banner of local chapter of the Minhaj Welfare Foundation. 15 couples were married off in the mass marriage ceremony. The local chapter has so far financed the marriages of about 200 couples to date.
The Chairman Supreme Council said that helping the poor and destitute is the essence of Islamic teachings. He said that those who take part in welfare activities are the select people who will have the reward of their actions not only in this world but also in the hereafter.
The brides and grooms were seated on the right and left sides of the central stage. The religious scholars of Minhaj Ulama Council solemnized the Nikkah of the couples separately. Every couple was gifted household stuff of Rs. 1.5 lacs on this occasion. The marriage processions were warmly welcomed as they arrived at the venue. The food arrangements for the guests were also made by the local chapter of MWF.
PAT Secretary Information Noorullah Siddiqi, PTI leader Waheed Anwar, Asif Sulehria, Sufi Muhammad Tufail Qadri, Khalid Minhajian, Rana Shafique, Dr Asghar Nauman, and Arshad Narro were present on the occasion. Local notables, religious and social and political figures also attended the ceremony. The MWL office bearers welcomed the brides.
The local notables appreciated Dr Tahir-ul-Qadri for his contributions in the field of education, health and public welfare. They said that the MWF's welfare activities are a matter of great pride. They said that unless the affluent sections of society come forward and help others, the conditions of the less privileged brethren cannot change. They said that they will continue to support the MWF's efforts in easing the difficulties of the poor.