PAT shows its strength in Sialkot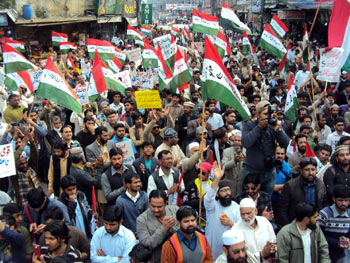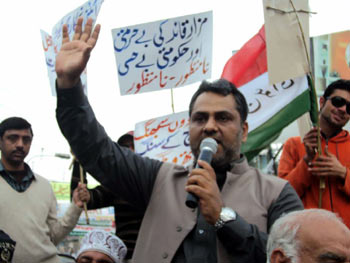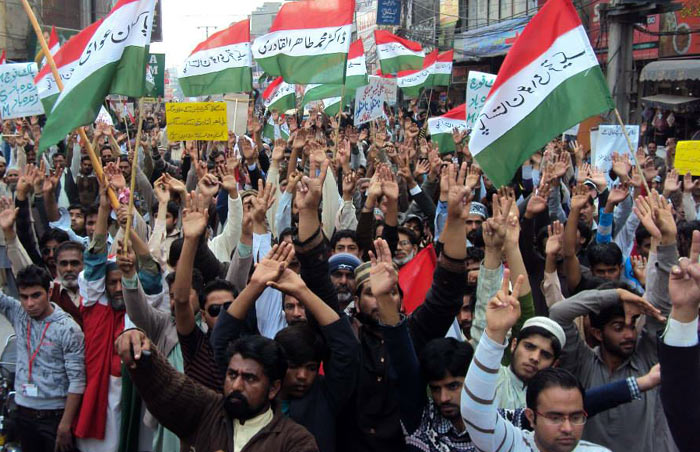 The atmosphere of Sialkot, the city of Allama Iqbal, reverberated with echoes and slogans in support of the armed forces and police. Thousands of people joined a demonstration organized by the Sialkot chapter of Pakistan Awami Tehreek to protest skyrocketing high prices, shadowy privatization, terrorism, corruption and poverty. The rally, which was led by PAT central President Sheikh Zahid Fayyaz, presented a mesmerizing spectacle as the waves of people could be seen all along the route of the rally. It started from Chowk Shahabpura and passed through various areas of the city to culminate at Allama Iqbal Chowk.
The Presidents of local chapters of MQI, PAT, Minhaj Youth League, Minhaj Women League and Mustafavi Students Movement led their respective processions and joined the main rally later on. One of the key highlights of the protest rally was the passionate attendance of men and women belonging to various walks of life. Their enthusiasm for change was visible in the very manner they chanted slogans to decry the policies that were responsible for their predicaments.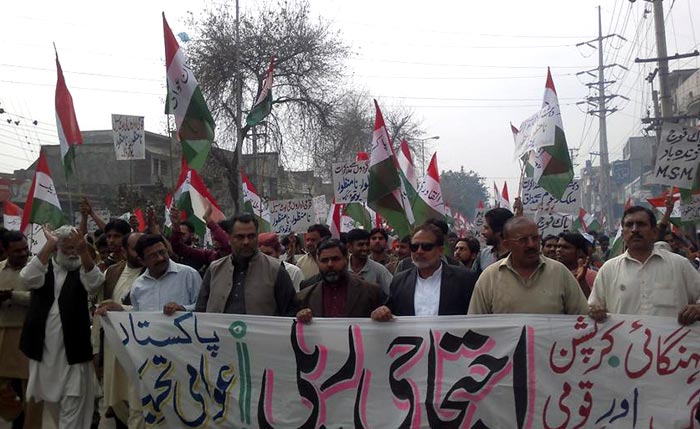 Addressing the participants of the rally, PAT President Sheikh Zahid Fayyaz said that the children of the nation were dying while there was no one to take care of them and stop this merciless dance of death. He asked the people who were sandwiched between price hike, neglect and poverty and unemployment to join the caravan of Dr Tahir-ul-Qadri for a change in the country. He said that if the people became aware of their rights and determined to get them back from the predatory elite, their destiny would change for good.
Lambasting the government for its poor performance, PAT President said that those holding the ruling positions had claimed in run-up-to the elections that they had done their homework and would rid the nation of terrorism, price hike and poverty if elected to power. He added that it was unfortunate that things went from bad to worse under their watch. He said that those who championed the cause of change also forgot their slogan once they reached the assemblies. They had also turned their back on the poor and less fortunate sections of society, he said. The drama of alternating each other in power under the politics of deal-making would not run anymore as the people had seen through the game plan of PMLN and PPP, he further said.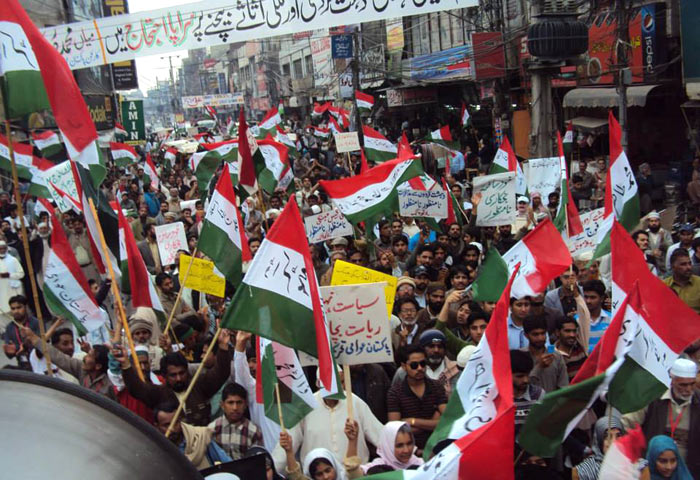 In their speeches, central vice President Abdul Qayyum Advocate, Coordinator PAT Gujranwala Division Zaheer Ahmad Naqashbandi, Malik Saif Awan, and Haji Sarfraz Ahmad Chaudhry said that today's public referendum proved that the people disapproved of corrupt system, shadowy privatization, and talks with the Taliban.
In their joint statement, PAT local leadership namely, Haji Sarfraz Ahmad, Muhammad Fazal Chishti, Ghalib Ali Mughal, Usman Butt, Tahir Mahmood, Malik Amjad Chand, Aetesham Malik, Rashid Bajwa, Saeed Iqbal Baloch, Tayyab Gujjar, Sheikh Muhammad Younas, Muhammad Irfan-ul-Haq, and Tahir Durrani resolved to carry on the mission of peaceful and democratic change unless lawlessness, terrorism, poverty, and unemployment were got rid of. They said that rally represented PAT's show of people's power in Sialkot, adding that time was not far away when ten million Namazis would take to streets for restoration of their usurped rights.
The President of Minhaj Women League (Sialkot chapter) said that the sisters, daughters and mothers of the nation were out to get back their rights and would not rest till the morning of revolution dawned. He said that none could stop the way of peaceful change in Pakistan now.
Representatives of print and electronic media remained with the rally all along the route and gave it extensive coverage. PAT President Sheikh Zahid Fayyaz thanked them.