Pakistan needs a new system of distribution of Zakat: Dr Hussain Mohi-ud-Din Qadri
Dr Hussain Mohi-ud-Din Qadri, deputy chairman of the Board of Governors of Minhaj University Lahore, addressed a conference on the topic of "Economic Development of Pakistan through Zakah and Islamic Finance", which was arranged by Sialkot Chambers of Commerce and Industry.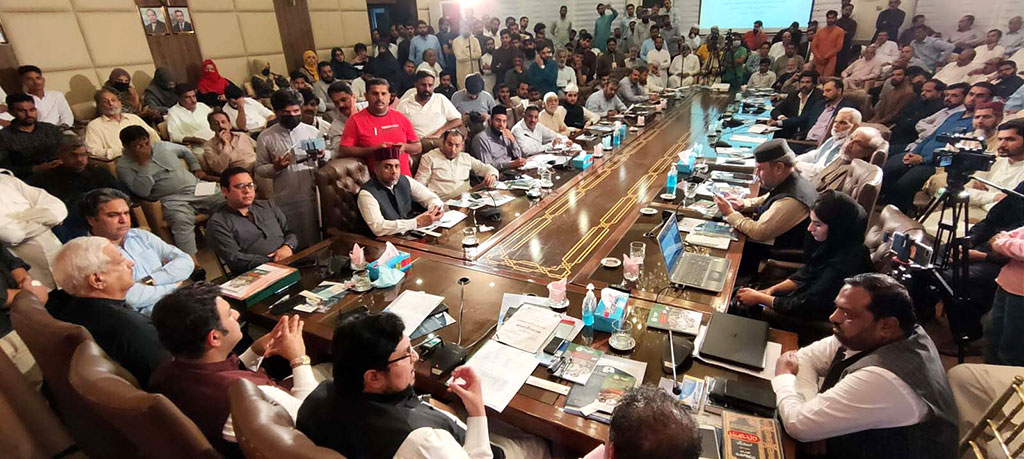 While speaking on the occasion, Dr Hussain Mohi-ud-Din Qadri said that Pakistan needs to have a new system of the distribution of Zakat. He said that instead of handing people cash, the Zakat and Usher department should help the deserving people start small scale businesses so that they can stand on their feet.
The conference was attended by vice-president of the Chamber Qasim Malik, former president Dr Nauman Butt, business people, members of the Chamber and the MQI leaders.
Dr Hussain Mohi-ud-Din Qadri said that the zakat money should be distributed among the people on the ongoing model of microfinance with a clear objective to reduce poverty and inequality in the society. He said that the grant of cash money does not translate into a long-term tangible benefit, adding that the amount should be spent on buying items for the deserving people according to their capacity, which they can later sell and earn profit. He said that whosoever starts a business with this money can return it as well, thus helping others find their own moorings.
Deputy Chairman BoG of Minhaj University said that the traders and industrialists are a backbone of the economy and have always played a frontal role in the stability, and strengthening of the country's economy.
Those present on the occasion included Ijaz Ghouri, Mohsin Gul, Allama Idrees Qadri, Abdur Rehman Malik, Engineer Muhammad Saleem, Allama Sanaullah Rabbani, Hafiz Ihtasham Mahmood, Shahzad Akbar, Mian Asif, Mian Raza, Nasir Advocate, Qazi Faiz-ul-Islam, Sarfraz Ahmad Chaudhry, Altaf Randhawa, Wahid Farooq and others.
At the conclusion of the conference, vice-president Sialkot Chambers of Commerce and Industry Qasim Malik thanked Dr Hussain Mohi-ud-Din Qadri and presented a souvenir to him as a token of gratitude. Dr Hussain gave a set of books of Shaykh-ul-Islam Dr Muhammad Tahir-ul-Qadri to Sialkot Chambers of Commerce and Industry as a gift.