Irfan-ul-Quran course held under MQI Sialkot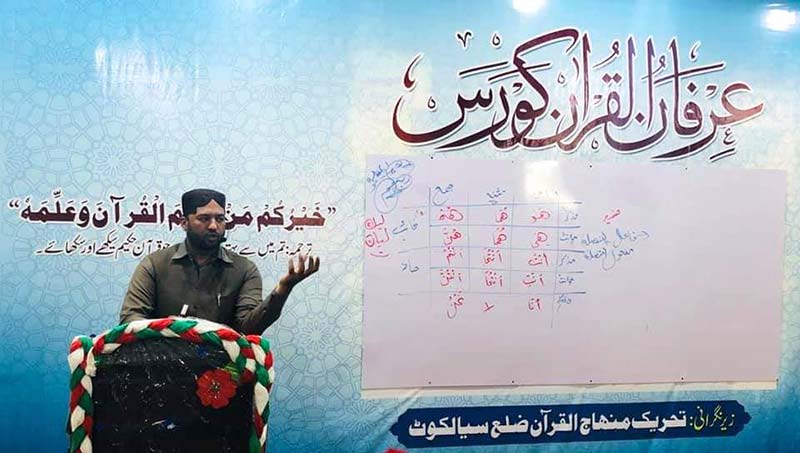 Irfan-ul-Quran course camp was organized in the Islamic Centre from February 10 to 19 with the collaboration of MQI Sialkot and Directorate of Training, central secretariat. Central Director (courses) Hafiz Saeed Raza Baghdadi, and Mahmood Masood Qadri attended the event as the guests of honour and delivered their talks in the camp.
The proceedings of the course began on the morning of February 10 which was attended by the men and women of Sialkot. Religious scholars, teachers, students and representatives of the civil society were also in attendance. More than 100 people had registered for the course due to proper publicity and prior briefings and visits of Hafiz Saeed Raza and his team.
Lessons on various aspects such as the Quranic translation, Hadith, personality building and public speaking were part of the Irfan-ul-Quran course. The participants were assessed on their learning outcomes. The teachers used the presentation mode of teaching to bring greater clarity to the participants of the course.
A grand ceremony was held on Feb 19 to mark the birthday of Dr Muhammad Tahir-ul-Qadri and distribute the certificates on the completion of the course. In addition to a large number of people, Ms. Ayesha Mubashar, and Allama Mahmood-ul-Hassan Jafari traveled from the central secretariat in Lahore to attend the final day event.
Khawaja Altaf Mohi-ud-Din, Allama Khadim Hussain Khadimi, Allama Mufti Ghulam Haider Khadimi, Allama Yaseen Qadri and others were the distinguished guests in this session. They lauded the services of MQI for spreading the Quranic teachings, particularly through the Encyclopedia.
Hafiz Saeed Raza Baghdadi and Allama Mahmood Masood Qadri thanked MQI Sialkot for organizing the whole course in a spectacular fashion. They expressed the resolve to continue working hard to promote the message of the MQI.
The certificates were distributed among the successful participants followed by the cutting of the birthday cake.