Inauguration ceremony of Free Ambulance at dadhwa basra Daska (Sialkot), Pakistan.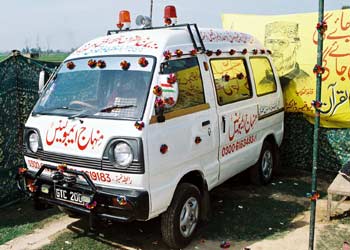 A ceremony was held on 06-03-2005 (Sunday) at Dadhwa Basra Daska (Sialkot) for the opening foundation of free Ambulance Services by Minhaj Welfare Foundation. The prominent personalities of the area apart from the public of Dadhwa Basra, participated in this Ceremony. Among the participants the names of Ch. Mumtaz Ali. MPA PP 129, Mr. Anwar King, Nazim UC, Mr. Ashraf Naeem Nazim U.C, Khawaja Atif Raza representative Daily Jang, President Minhaj Welfare Dadhwa Basra, Mr. Mirza Azeem of Bandhan Marriage Hall, Daska, Mr. Abdul Rahman Bhatti former President PAT Norway, Mr. Safdar Butt Naib Nazim TMQ South Korea and Mr. Aslam Qadri Head of MWS Tehsil Daska were the prominent guests. The programme started with the recitation of the Holy Qur`an and Na`t of the Holy Prophet Sallallahu Alaihi Wa`Aalihi Wasallam. Mohtaram Sana Ullah Rabbani, the learned scholar of Jamia Islamia Minhaj ul Qur`an spoke on the theme of the great martyrdom of Imam Hussain Razi Allah hu Ta`Ala Unhu and gave the message of Minhaj ul Qur`an Welfare Society commendably. Mr. Sajid Bhatti addressed the audience and gave an introduction of Minhaj ul Qur`an Society throwing light on various projects which are underway with specific reference to the relief goods for the victims of Tsunami disaster and the affecters of rain and snow storms, giving details of the relief activities.  He applauded the services rendered by the organization of Dadhwa Basra in launching free Ambulance services for the benefit of the local community. At the conclusion, Ch. Mumtaz Ali MPA and other prominent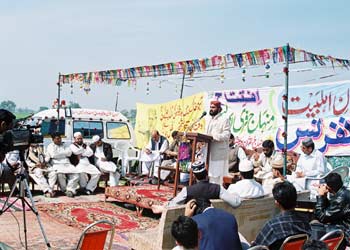 figures of the area addressed the gathering, praising lavishly the efforts made by the organization for the benefit of the poor. They assured them full cooperation especially the Welfare body of Dadhwa Basra was promised everything possible on their behalf. At the end Allama Rabbani offered special Du`a for all the participants of the programme.
After Zuhr prayer a special meeting was held in which the senior Naib Nazim Muhtaram Sajid Bhatti and Central Secretary MWS Muhtaram Safdar Abbas gave work plan with regard to working of Welfare activities to the local organization and stressed the need of coordinating the Welfare MWS programmes of Tehsil Daska with the Central MWS projects being launched by the secretariat at 365-M, Model Town Lahore. The importance of developing strong contacts with the Markaz was underlined. It is noteworthy that Dadhwa Basra Welfare Body has been running Free Minhaj ul Qur`an Dispensary for a year, the beneficiaries of which number in thousands. In addition a Free Blood Bank and a Free Tuition Centre are also being operated.