5th Annually, Distribution of 100 Irfan-ul-Quran Ceremony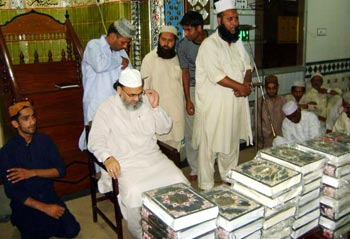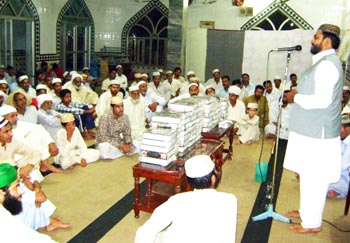 A Town Sahowala is situated near of Sambrial, in District Sialkot. Where Minhaj-ul-Quran Islamic Library is working from 1996, which is the most beautiful, well decorated & well organized Library in the province Punjab, where all Books & Cd's of Shaikh-ul-Islam are available without any rent & advance, from the 1st starting day of this Library to till yet.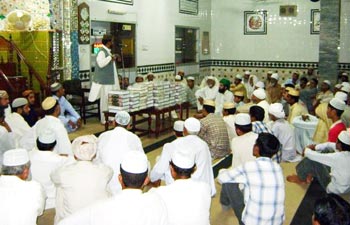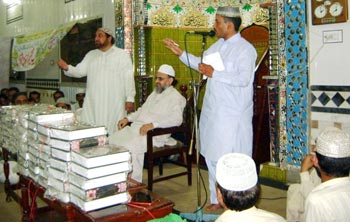 Here, In Sahowala, 5th annually, distribution of 100 Irfan-ul-Quran ceremony held on Saturday, 19 September after "Taravih Prayer", in Central Jamia Masjid Noor Sahowala.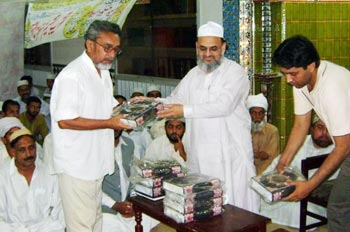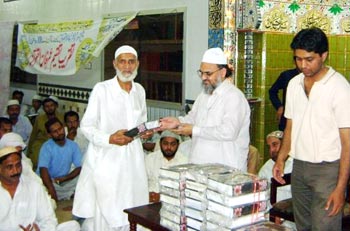 A well known Spiritual personality, President Doctor's Medical Association Sialkot, Child Specialist & In charge aimh Sialkot, Sajjada Nasheen Darbar-e-Aliya Hazrat Mahboob-e-zaat Mundair Shareef Sayedan, Dr. Sahibzada Sayyid Masood-ul-Sayyid was the chief guest of this ceremony.
Ameer-e-Tehreek District Sialkot, CEO Saleem Floor Mill Sialkot, Respected M. Saleem Butt & other Leaders of TMQ Sialkot were also participated in this Holy Ceremony as guests.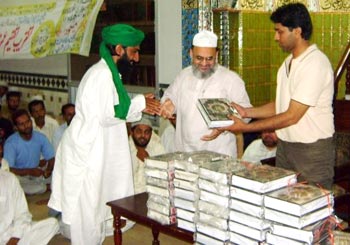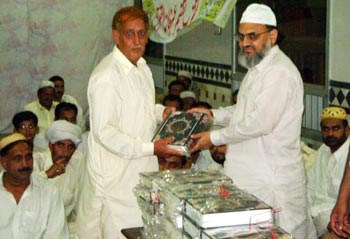 M. Waheed Qadri & Hafiz M. Akram Naqashbandi started programme with the recitation of Holy Quran & Naat-e-Rasool-e-Maqbool (PBUH).
After this, M. Bilal Hashmi Minhajian delivered his speech on the subject of "Glory of Quran & Sahib-e-Quran (PBUH). His way of communication was so beautiful & attractive that many of audience were weeping, when Mr. Hashmi was delivering his golden views with the help of "Quran & Sunnah". At the end of his Speech, He described the detail characteristics of Holy Irfan-ul-Quran, translated by Shaykh-ul-Islam Dr Muhammad Tahir-ul-Qadri.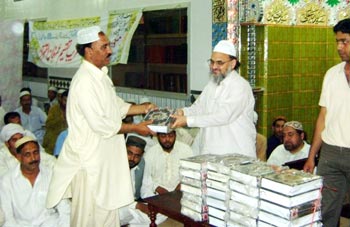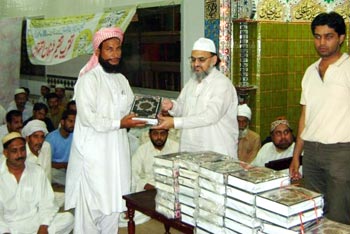 Mr. Idrees Gujjar chief Organizer of this ceremony performed his duty as a "Stage Secretary" very well.
He invited Ameer-e-Tahreek Sialkot & Huzoor Peer, DR. Sahibzada Syed Masood-ul-Sayyid Sb, & they distributed 100 Irfan-ul-Quran's to different religious, educational, social, political & spiritual personalities of Sahowala, as a gift. The lucky people, who received these Irfan-ul-Quran's as a gift, were very pleased. Till yet, In Sahowala, 450 Irfan-ul-Quran's have been gifted. Present this Holy Irfan-ul-Quran, to every home of UC Sahowala, is our aim of life.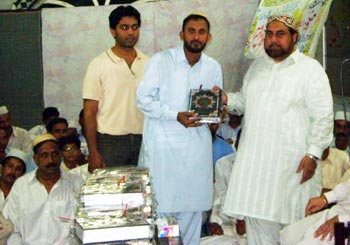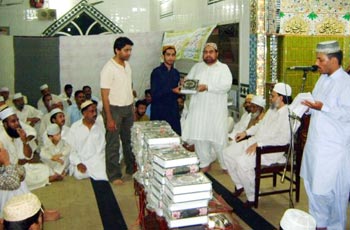 At the end of this Holy Ceremony, Durood-o-Salam was presented in the Holy Bargah of PBUH. Then, Huzoor Peer Sb prayed for all Muslim Ummah, & paid tribute to Mr. Shahzad Cheema & Hafiz Irfan Yousaf.
Ph.D Scholarship Holder from HEC, (Govt. of Pakistan) Mr. Shahzad Cheema, Now-a-days, studying in Italy & Software Engineer in UAE, Mr Hafiz Irfan Yousaf totally donated for this ceremony. May ALLAH reward them!
Report By: Bilal Saeed Minhass (Gen. Secretary TMQ Sahowala)
You can see the Pictures of this ceremony after to click given below link:
http://www.facebook.com/album.php?aid=124159&id=545506301&l=8bd26d687d